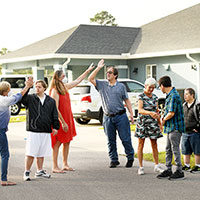 Cut in state funding reduces services to special needs adults
STORY BY MARY SCHENKEL (Week of September 17, 2020)
Photo: Noreen Davis, marketing director, left, and The Arc of Indian River County Executive Director Heather Dales, center in red, give high fives to the residents of one of five group homes on Friday morning, September 4, 2020.

The Arc of Indian River County, a nonprofit that provides job training, group homes and other services to special needs adults, has been forced to cut services due to pandemic conditions and reduced state funding.
A day program operated by Arc that provided job and life skills to 110 clients before the pandemic has been cut by half, and the group's transportation services have been eliminated. In addition, up until last week, five group homes here were on lockdown for months, with residents isolated from friends, family and residents in other group homes. Now, limited visitation is allowed but with no physical contact.
Even before the coronavirus outbreak, Florida ranked dead last nationwide in terms of reimbursements to the organizations that support special needs adults, and the situation has only gotten worse during the pandemic.
"It's hard enough to provide services normally, before something like covid comes along," said Heather Dales, CEO of the Arc IRC, which supports more than 220 clients in total. "We have to go to the community to meet normal operating expenses or to do capital improvements [because of sparse state funding]."
State funding comes from the Centers for Medicare & Medicaid Services and passes through the Florida Agency for Persons with Disability, but Florida eliminated all funding for day programs like the Arc runs effective Aug. 1, unless the programs fully reopened.
That was impossible for the Arc, with its group homes, where half the day students live in a state-mandated lockdown similar to the nursing home lockdown.
"The state was paying us to keep the program running after COVID, even in a limited way, as long as we kept the direct care staff," said Dales, who so far has been able to keep the agency's 15 day-program staff employed. 
"That was to ensure there would be programs when covid passed. But now the state is pulling all that funding and there is nothing in the wings that will keep the programs operational." 
The cash Arc had on hand will not to be sufficient to sustain staff and facilities long term.
"COVID is not going away soon, and there are not a lot of options at this point as to how to keep programs up and running until COVID passes," said Dales.
"We've already been asked to provide service to another 20 individuals as soon as we reopen," said Dales. Some of those individuals were in similar day programs in Vero Beach and Fort Pierce that have closed permanently.
"The problem is, if Arcs here and around the state close their day programs, where do people go?" said Dales. 
The Arc of IRC continues to provide modified day-program activities for clients living in its group homes, keeping different group home clients separate.  But clients who live at home with their families, on their own or in other group homes are out of luck.
Transportation services have been cut, too. 
"The Arc of IRC owns and operates 21 vehicles, [and is] the only agency in the county that provides people with special needs door-to-door transportation," according to a pre-pandemic paragraph on the group's website – but those buses aren't running now.
Unlike assisted living and nursing homes, the Arc received no funding for testing or PPE during the first five months of the pandemic, even though its group homes are subject to the same quarantine requirements.
"We're required to adhere to a lot of the same assisted living facility guidelines, but we don't receive a lot of the same funding," said Dales. "We still have to maintain a level of health, safety and care, but don't receive additional covid funding." 
It wasn't until Aug. 1 that the Division of Emergency Management established a contract with Curative Labs Inc. to distribute kits to adult special needs group homes to self-test staff every two weeks.
On the plus side, only one staff member has tested positive and there have been no incidences of coronavirus among clients. When the staff member tested positive, the Department of Health was experiencing testing delays of several days, so the Arc tapped its own funds to test everyone the employee had come in contact with. 
The Arc of Indian River County has provided support to adults with special needs for the past 45 years. While its behavior, supported employment and residential services continue to operate, long-term prospects for its day programs remain unclear.
"We're trying to be very creative on how to keep day programs open, but it's going to be challenging," said Dales. "We've been trying to find some positive ways to work with the state so that we don't have to lay staff off and completely alter programs.
"This is statewide; it's a huge issue. I'm on a state call every week. We're trying to be positive, but the mood is very challenging, disheartening."