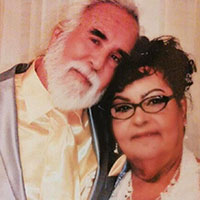 Faces of pandemic: Couple dies three days apart
STORY BY MICHELLE GENZ (Week of September 3, 2020)

On a bicycle festooned with blue Christmas lights, Isidoro De La Paz pedaled through Fellsmere every day, his white hair and beard flagging his approach from at least a block away. People remember him waving as he passed, sometimes stopping for a laugh with old friends.
At 78, De La Paz could walk four miles, his son said, which spoke as much to his fitness as his urge to get out and about. His wife Maria, 73, kept their house full of life, raising with enormous pride six children plus three grandchildren, and fawning over her "babies" – 50 grandchildren and great-grandchildren. She kept a packed calendar of celebrations, cooking for dozens as a matter of course.
Like her husband, Maria De La Paz was "a fixture in the Fellsmere community," her obit read, with "a huge smile, hug and kiss for those that crossed her path."
How else but hugs to explain how the beloved couple were exposed to COVID-19 in mid-July, as the coronavirus seemed to be chasing down Fellsmere's Mexican-American community like a swarm of yellow jackets, stinging at random with its lethal spikes.
After 56 years of marriage, and three horrific weeks fighting for life in the ICU of Cleveland Clinic Indian River Hospital, they died three days apart in rooms diagonally across from one another – neither aware the other was there.
With no living wills or final directives, it was left to their children, utterly depleted from weeks of worry, to decide how each parent should pass away, on or off a ventilator, and whether they should be resuscitated. Two unthinkable choices in three days.
"Can't sleep. My brain won't shut off. I have a long day tomorrow," wrote the couple's youngest son, Isidoro, who goes by Lolo, on his Facebook page. He was anticipating his father's death, having just watched his mother die.
"The pain I'm feeling is indescribable having to make the decision twice in the same week."
For Fellsmere Vice Mayor Fernando Herrera, the loss of his old friends was devastating. It was also infuriating, as COVID-19 tore through his hometown. He reeled off the names of eight people he knew who had died of COVID-19 since mid-July, including a 38-year-old man, a 57-year-old woman and a 60-year-old man. Still another man, 61, died last week.
Public health case analyses show COVID-19 strikes Hispanics and Blacks 2.5 times as often as non-Hispanic whites, with a rate of hospitalization 4.5 times as great. Experts lay blame on social issues like lack of healthcare access, close living quarters and public-facing jobs.
But in Fellsmere, neighbors see who is being careful and who is not. Herrera believes that rather than double down against COVID's targeted aggression, people are craving a return to normalcy.
"Careless, is what it is. People are still going out to parties, to quinceaneras," said Herrera, who has lived in Fellsmere for 50 years.
"My neighbor, the whole family got it when he went to get a haircut. Two days later, he got sick and he was real sick. One girl I know, she found out she had it, but then she went to see her parents, and they got it too. Why did she go see her parents? My God, they've got to take this seriously.
"People who aren't strong, they are hitting the ground quick," said Herrera, "People have got to take precautions. You love yourself? You love your family? Wear a mask, I tell them."
Isidoro and Maria De La Paz did take precautions, their kids said. They wore masks and washed their hands diligently. "They tried to protect themselves, but they went to the grocery store and tried to live a normal life," said Lolo.
All through the lockdown in the spring, it seemed Fellsmere had been spared the disease, with only one confirmed case by mid-May. But health officials suspected cases were lurking undetected. In early June, the Health Department began testing in Fellsmere, joined soon after by Treasure Coast Community Health, a group of low-cost clinics with a location in Fellsmere.
It took until June to finally procure the necessary PPE and testing supplies to begin drive-through testing, said TCCH CEO Vicki Soule.
Today the clinic system offers free tests to people with no symptoms in Fellsmere, Gifford and the Oslo Road area.
By June 12, a week after the first round of tests in Fellsmere, there were 18 cases. Four days later, there were 29. The next day, 39. By the end of June, there were 176 confirmed cases in the small farming town west of I-95.
Monday, the tally stood at more than 400 out of 6,000 residents.
At the time Isidoro and Maria De La Paz were infected in mid-July, 300 people had tested positive.
"They were one of the best families in Fellsmere, let me tell you," said Herrera. "People loved them so much. I have never heard anybody say one bad word about them. Never in all these years."
When Herrera's family came to Fellsmere from Apopka in 1970, the only other Spanish speaker was a man born in Cuba. The De La Pazes were among the first Mexican-Americans to move there when they arrived as migrant farmworkers in 1979, adding Fellsmere's groves and farms to their rotation of work in Texas, Utah and Michigan.
As a family – they would have six children, though two sons have died – they migrated seasonally for another decade before Isidoro became a truck driver, sleeping in his truck for a week at a time. Maria worked at the Redlands Christian Migrant School.
Today, Fellsmere is 70 percent Hispanic, according to U.S. Census figures. Vero Beach and Sebastian by contrast are 8.8 percent and 6.6 percent, respectively.
Both Maria and Isidoro De La Paz had cholesterol and blood pressure issues, and Isidoro was diabetic. But they never considered themselves anything other than healthy.
"Nothing slowed them down," said Lolo. In late June, they drove with their daughter to western North Carolina to visit Lolo. Cases there were still low, and there is no indication they were infected on the trip since symptoms didn't start until two weeks after their return.
That was just before Lolo and his fiancée Dotie Stafford came to Fellsmere for their own vacation, stopped by his parents' house and found them unwell.
"It was like a small cold," said Lolo. "Cough, congestion and chills." That brief Sunday visit, as it would turn out, cost the younger couple a two-week quarantine at a critical time – though they never were called by the Health Department for contact tracing.
The Monday after Lolo's visit, Isidoro and Maria saw a doctor in Sebastian; she wrote them a prescription for amoxicillin and an order for over-the-counter cough syrup. "She basically gave them cold medicine and told them to take Tylenol," Lolo recalled. He feels certain his parents would have told him if they had been swabbed on that visit, since they went in thinking they had caught a cold.
Two days later, Isidoro was admitted to the Cleveland Clinic ICU with double pneumonia and immediately placed on a ventilator.
On Friday came the positive results of the hospital's COVID-19 test. Doctors initiated a procedure known as proning, in which the patient is carefully turned onto his belly so that oxygen can more readily reach the back and bottom of the lungs.
Maria too was feeling worse. As Isidoro was being proned in the ICU, she went to the Cleveland Clinic ER. She too tested positive, but doctors felt she could recover at home.
Maria made it through the weekend, but on Monday, she was admitted to the hospital's fifth floor covid wing with signs of pneumonia. Two days later, her oxygen saturation levels were falling, and she was moved to the ICU. Had nurses let her, she could have seen Isidoro from her bed.
Isidoro, heavily sedated and intubated, never knew she was there. But Lolo, in quarantine himself, had a chance to talk to her by phone before doctors sedated her for her own intubation. He told her he loved her, and to listen to the doctors. "Follow their directions," he said. They were the last words he spoke to her.
The family – the couple's four adult children, their spouses, and their own children – were consumed with the unfolding tragedy. Texts, calls and group chats filled their days, with Dotie serving as scribe and medical liaison.
An administrator at a community college, she had no medical training. But her own family has had so many critical medical procedures including open heart surgery and life support that she was able to follow the complex protocols put into place.
"I gave them the best- and worst-case scenarios. So, when those unfortunate calls came, they were not surprised. They were prepared."
As Maria grew worse, Isidoro had stabilized. Doctors had hopes of weaning him off the ventilator, reducing the paralytic drug to see if he could breathe on his own. But he was "fighting the vent," trying to take in air out of sync with what the machine was delivering and becoming agitated as a result. Doctors increased his sedation.
The next day, July 31, they tried proning him again. It was his ninth day on the vent.
Doctors started to be concerned that they couldn't rouse him.
So it went, with Isidoro fighting the vent but not responding to nurses trying to wake him. At the same time, Maria's oxygen saturation was falling, and they were proning her, increasing her paralytic to move her.
After two weeks on the vent, doctors performed a tracheostomy on Isidoro in the hopes of making him more comfortable than with a breathing tube in the mouth.
On Aug. 7, doctors ordered a neurological exam for Isidoro, still concerned about his unresponsiveness. Maria's heart rate fell to 27 beats per minute. Doctors changed her medicine to up her heart rate.
On Aug. 8, Maria went into cardiac arrest. Her heart stopped for two minutes. "They called us at 4 a.m.," said Dotie. The siblings all rushed to the hospital and were allowed to see their mom through the glass doors of her room.
Doctors asked for an end-of-life directive: Should they perform CPR or other means to restart the heart if she went into arrest again? The question was beyond comprehension.
"Lolo couldn't talk. He was in shock," said Dotie.
One sister said, "I want my mama to fight." Another sister, like Lolo, was too overcome with sobs to speak. Finally, she saw a way to clarity. "What would our daddy want?" she asked.
Collectively, they agreed their father would not want to see their mother suffer.
Dotie had stepped back to let the siblings decide. Now, she watched the outcome unfold.
"The hardest thing for me was to see Lolo go to the phone and dial that doctor's extension and tell her, if his mom's heart stopped again, not to resuscitate. For them and for me, it was one of the hardest moments. From the outside looking in, it was heart wrenching."
The next day, Aug. 9, Maria was hanging on, but she was worse. Her system could not tolerate proning.
Then, that evening, Isidoro had a seizure.
With Maria's lungs and kidneys failing, her heart rate and blood pressure still low, doctors called the children again the next day to discuss end-of-life care. They could let her go into arrest again, allowing her to die on the table. Or doctors could remove the vent, give her oxygen and let her pass peacefully. The children decided to take her off the vent that day. It was Aug. 10.
Before the vent was removed, doctors allowed the family to see her. Dotie hung back and watched as one of the nurses began to cry. "You may not think this, but we consider these people our family," the nurse told her. "We love them. We get attached to them." She told Dotie that a nurse named Don had washed and combed Maria's hair.
Three grandchildren Maria had raised donned PPE and went into her room. They touched her as they said goodbye.
Afterwards, the grandchildren crossed the hall and went in to see Isidoro. Though he had been unresponsive for days, he moved slightly in their presence, and a report later showed that his heart rate had increased briefly and then gone back to normal when they left.
Maria passed away soon after. That night, the family gathered to say the rosary in Spanish by candlelight. At several points, their voices broke with sobs. The ritual went on for nine nights, Lolo said, before resuming for Isidoro.
The next day, doctors performed an EEG on Isidoro, who knew nothing of his wife's passing. It was inconclusive, so a second EEG was ordered. The report came back Aug. 13 and it was grim: In the seizure, Isidoro had suffered damage to 90 percent of his brain.
For the second time in three days, the siblings rushed back to the hospital. To avoid the viral exposure involved in removing the ventilator tube, doctors simply turned the ventilator off. Two siblings stayed outside the glass door because of their own health issues, but Lolo and his sister Lisa put on full PPE and held their dad's hand as he died.
Lolo was inconsolable, Dotie said.
"They loved each other so much that they left this earth days apart," Lolo wrote that night on his Facebook page.
In the post, he also expressed his appreciation for Dotie's support, and his sister joined in, saying they couldn't have gotten through it without her as she prepared them for the worst.
Through it all, Dotie Stafford had worries of her own. In a bizarre coincidence, while Dotie was in Fellsmere, her own father got COVID-19 back in North Carolina. Ten years older than Isidoro De La Paz, he also has far more risk factors. But he came through COVID-19 without even being hospitalized. Dotie's mother never got it at all.