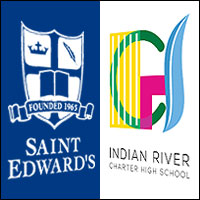 First COVID cases reported at St. Ed's lower school, Indian River Charter High
STORY BY GEORGE ANDREASSI (Week of September 24, 2020)

St. Edwards School experienced its first COVID-19 case and 24 lower school students were directed to quarantine after coming in contact with a person diagnosed with the virus.
St. Ed's was notified last week of a single case of COVID-19 in the lower school, said Head of School Stuart Hirstein in a Sept. 17 statement. It was St. Ed's first positive case since the school reopened Aug. 20.
The barrier island school declined to disclose whether the person was a student or staff member, citing privacy concerns.
Contact tracing identified 24 students who must quarantine for 14 days, Hirstein said. The students are able to take their classes using livestreaming technology available in each classroom.
"We're very proud of how the students and faculty have embraced all of the protocols that allow us to remain together on campus," Hirstein said.
The school does temperature checks in the morning, cleans the campus throughout the day, and requires facemasks on campus and in classrooms, Hirstein said.
The school also has hired additional nursing staff to help deal with the pandemic, Hirstein said. St. Ed's has installed UV-Air scrubbers in all HVAC units and hand sanitizing stations throughout campus.
In the first case of COVID-19 reported by a charter school, an Indian River Charter High School student tested positive for the virus and 17 students who had been in close contact were directed to quarantine.
There are 2,300 students at the county's five charter schools, including 670 at Indian River Charter High, records show.
Indian River Charter High will remain open for in-person instruction, said Director Cynthia Aversa.
The school will continue mask requirements, daily temperature checks, routine handwashing and building disinfecting practices, Aversa said. She asked any students running a fever or feeling ill to stay home.
Meanwhile, the School District of Indian River County reported that one student tested positive for COVID-19 at each of four schools in the past week, causing the quarantine of 18 students at Storm Grove Middle, 12 at Dodgertown Elementary, none at Sebastian River High and 23 as Oslo Middle.
In all, public schools reported a total of 15 students and three staff members have tested positive for the virus, as of Saturday, records show.
Since public schools reopened Aug. 24, a total of 243 students and one staff member have been directed to quarantine.
Schools Superintendent David Moore credited the relatively low numbers in the public schools to Indian River County having a lower infection rate than nearby counties.
"We're closer to returning to normal in comparison to our neighbors," Moore said last Tuesday during a Facebook Live presentation.
The infection rate of the people tested in Indian River County in the past two weeks averaged 3.25 percent, compared to 4.7 percent in St. Lucie County and 5 percent in Brevard County, state records show.
A total of 3,099 people have tested positive for COVID-19 in Indian River County and 110 had died as of Monday, records show.
With the low level of infection in schools, the school district is pushing ahead with plans for expanded in-person schooling.
The district plans to start a new survey Monday for the 5,600 students attending school virtually, asking whether they want to return to class in person for the second 9-week quarter beginning Oct. 12, Moore said.
"We need this information as quickly as possible," Moore said. "The highest level of support we can provide is in that brick and mortar experience."
Among the factors parents should consider are their concerns about their child's health and safety, and the progress their child is making in the virtual or in-person models, Moore said.
"We do have progress reports going home throughout this week," Moore said. "So that's an opportunity to look at the progress of your son or daughter within the model."