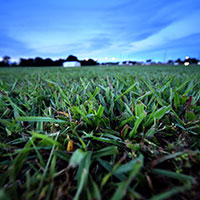 Graves says he is close to a deal with county on sale of 16th Street ballfields
STORY BY RAY MCNULTY (Week of September 3, 2020)

Vero Beach City Councilman Joe Graves said last week he's not seeking reimbursement for "thousands of dollars" he spent to maintain the 16th Street ballfields property he purchased from the county in 2017, but he does expect to recoup the $250,000 he paid for the parcel and another $250,000 he invested in improving it.
"I'll cover the maintenance costs," he said, "but as far as the improvements we made to the property, they're all documented."
According to Graves, the improvements included removing antiquated lighting, old and unsafe fencing, a rotting shed and two unusable field houses; repairing the irrigation system and replacing pumps; remodeling the Bud O'Reilly Field House; installing 5 acres of athletic turf; and resurfacing the parking lots.
"We tried to repurpose as much as we could," Graves said, "but most of the stuff, we couldn't even give it away."
Graves purchased the 11.6-acre property in March 2017 through the Jimmy Graves Foundation, named after his son who died in a boating accident the previous year. He got a sweetheart deal from the county, paying much less than the appraised value of the land, and planned to build a youth-activities complex that would include a regulation-size track that could be used by Vero Beach High School athletes.
He abandoned his plans after three years, however, when the nonprofit foundation was unable to generate the donations needed to fund the project. Graves then transferred ownership of the land to a for-profit company he owns and put the property up for sale earlier this year.
Graves has a contract to sell the land for $1.1 million to an Orlando-based real estate developer who wants to build affordable, multi-family housing, but he needs to resolve a dispute over a deed restriction on the property before he can proceed.
County officials are offering to remove the restriction, which limits the primary use of the property to recreational and youth-related activities, but it wants Graves to turn over all profits from the sale – after his costs are covered – to the county.
The county plans to use the funds, which are expected to exceed $500,000, to build new fields at Hobart Park and name the complex after Graves' son, Jimmy, who was 15 when he died in December 2016.
If Graves and county officials fail to negotiate a deal, the matter could end up in court, but both sides hope to avoid a legal battle.
"It's a friendly process," Graves said, adding that he simply needs to recover his investment and won't profit at all from the sale. "I think you'll see an agreement soon."
County Administrator Jason Brown said he hoped to present county commissioners with a proposal at their Sept. 15 meeting. Graves said he expected the two sides to have at least a partial agreement by that time.
"We'll get to an agreement," Graves said, "and whatever profit remains will go to provide facilities and activities for the county's youth."
Graves said selling the property to a developer was his "last resort, our only option," after his youth-activities complex plans fell through and there was no local interest in buying. He said he approached the Boys & Girls Clubs of Indian River County, the school district, St. Francis Manor and other nonprofit organizations without finding any interest.
"We were willing to sell the property at cost," he said.
Graves said he "feels good" about the developer's plans for the property, which is located across 16th Street from Vero Beach High School, and he believes most people in the community will like the plans, too.
"You're not going to see apartment buildings," he said. "It'll be a low-density and aesthetically appealing development, and it'll be affordable. We have a need for middle-class housing in this community.  We keep saying we want to create more jobs, but where are people going to live?"
For any housing development to be built there, the Vero Beach City Council would need to approve rezoning of the property. Graves, who has an obvious conflict of interest, said he would recuse himself from any such vote.
He said his only regret is that he was unable to build the planned Jimmy Graves Sports Complex on the ballfields property.
"We had a really good idea and created some excitement, hoping the community would come together and get this thing built," Graves said. "There just weren't enough people that cared enough to put up the money we needed to make it happen.
"But I can hold my head high," he added. "We gave it a shot."