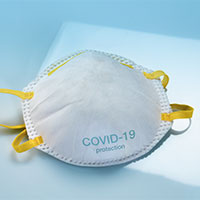 Quarantined students set to return to their classrooms this week
STORY BY GEORGE ANDREASSI (Week of September 10, 2020)

Five students in four Indian River County public schools have tested positive for COVID-19 since schools reopened two weeks ago, leading to the quarantining of an additional 81 students and one staff member.
More than 30 of the quarantined students were expected to return to school this week on Tuesday, according to School Superintendent David Moore.
Fellsmere Elementary, Sebastian River High School and Vero Beach High School each had a single student test positive for the virus, Moore said, while Osceola Magnet had two students. No staff members have tested positive, he added.
The students testing positive should serve as a warning to the community about the danger of the virus and the need for safety precautions, a parent said Friday.
"Hopefully, this will encourage everyone to take this seriously," said Mark Manera, whose son is a fourth-grader at Osceola Magnet.
"There are so many people who are doubters and they don't know what to believe on the news. They think it's a hoax, some people.
"I think it's unfortunate, but it's good [school officials] realized this is something to take seriously."
Vero Beach High School canceled its first football game, which was scheduled for Friday at Naples High School, because a substantial number of players were quarantined, said school district spokeswoman Cristen Maddox.
But overall, Indian River County schools and residents seem to be doing a good job limiting the spread of COVID-19, Moore said Friday during a radio interview.
"We are in some ways returning to normal," Moore said during the interview. "What we're doing as a community collectively is working."
The school district saw fewer students test positive for the virus than nearby counties and Indian River County's COVID-19 trends are more favorable, Moore said.
New virus cases have steadily declined here over the past month.
Ideas provided by parents and teachers helped administrators improve safety measures at schools, Moore said.
"We do not have a positive employee in our district yet, which really speaks to the systems we've created to keep everyone spaced," Moore said. "You see a level of anxiety diminish over the course of two weeks."
Finding a way to make it easier for students to take a breather from wearing facemasks is a key issue school officials are working on, Moore said. More spaces will be identified for breaks.
Faulty computer hardware was the main issue for students in the district's virtual schooling options, Moore said. Most issues were resolved when students traded in devices at the district's Tech Depot or downloaded computer program upgrades from the district's network.
Parents of 2,000 students in a nine-week transitional program will be asked in mid-September whether they intend to send their child back to school in person for the second nine-week quarter.
That will enable school officials to plan for "another opening of schools" when the new quarter starts on Monday, Oct. 12, Moore said.
Another 3,000 students in the Indian River Virtual Academy are expected to continue studies via computer program through the end of the semester.
Educators will be monitoring the progress of the district's 14,000 students to ensure they meet their academic goals by the end of December, Moore said.
"We've lost time. We need to make up some time," Moore said during a Facebook Live presentation. "We can't allow COVID to have a long impact on the lives of our children."
To offset lost classroom time, schools will offer tutoring before, during and after school to students who are falling behind, Moore said.
"We want to accelerate their learning so that when we hit December, we have eliminated all potential learning loss or 'COVID slide,'" Moore said
Staff writer Nick Samuel contributed to this report.