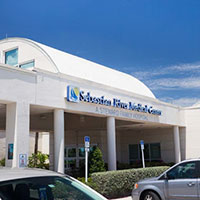 Sebastian River hospital struggles to fill patient beds
STORY BY MICHELLE GENZ (Week of September 17, 2020)

As Sebastian River Medical Center braced for the financial strains of a pandemic and tried to finish a much-delayed $65-million addition, the hospital was also fighting for an infusion of its own financial life-blood – patients in the door.
Figures just released by the state to Vero Beach 32963 show Sebastian River Medical Center continued to see a drop in patient volume through the end of 2019. That is despite assurances last fall from then-CEO Kyle Sanders who predicted an "astonishing turnaround" was underway with an anticipated 9 percent increase in patients by year's end.
Instead the 2019 figures show a 4 percent decline in inpatients; a 9 percent drop in emergency department visits; and a 24 percent drop in ambulatory outpatient services.
While figures for 2020 will not be available for several months, this past Sunday, Sebastian River showed only 69 of its patient beds filled; only 10 more were staffed and available beyond that. That accounts for just over half the hospital's licensed beds.
The downward trend, which began in 2017, the year Steward Health Care acquired the hospital, has brought patient utilization to its lowest point since 2012.
Sebastian River was apparently never able to recover from a dismal first quarter in 2019 that saw volumes fall sharply year over year – with 18 percent fewer inpatients, 35 percent fewer outpatient procedures, and nearly 25 percent fewer ED visits. That first quarter, January through March, is typically the county's busiest for healthcare.
Sebastian River ended the year showing 200 fewer inpatient discharges than the prior year, with a total of 4,497 in 2019.
Emergency room visits last year fell to 14,244 from 15,720 in 2018. Ambulatory services dropped to 4,623 from 6,144.
Steward Health is the nation's largest for-profit privately held hospital system, with 35 hospitals, including three in Florida. The company reported a total of $600 million in operating losses in 2017 and 2018, according to a public filing cited by a state health information agency in Massachusetts, where the health system began.
Those losses occurred as Steward undertook a major expansion, including a takeover in May 2017 of eight hospitals owned by Community Health Systems, Sebastian River among them.
When compared to 2016, the last full year under the Sebastian hospital's prior owner, ambulatory services at Sebastian River have declined 33 percent. Emergency room visits have fallen 25 percent over the same four-year period. Inpatient discharges, a key state measure of inpatient volume, fell by 12 percent.
At the same time, competitors Cleveland Clinic Indian River Hospital to the south and Palm Bay Hospital to the north showed upward trends in utilization.
The latest 2019 figures show Cleveland Clinic Indian River with a 5.7 percent rise in inpatient discharges over the previous year, as compared to Sebastian's 4.2 percent drop. Since 2016, Indian River has experienced a 15 percent increase in inpatients.
Cleveland Clinic Indian River showed a gain of 230 ER visits in 2019 over 2018 – 51,182 compared to 50,921.
Indian River's ambulatory visits increased by 6 percent over the previous year, to 17,179. That's up 26 percent since 2016.
Palm Bay Hospital, a nonprofit like Cleveland Clinic but owned by the Health First system, showed a slight drop in inpatient discharges in 2019. But it was still a 12 percent increase over 2016 – the precise percentage that Sebastian dropped over the same four years.
The numbers all mean that when COVID-19 began scaring more patients away from local hospitals than it drove in, Sebastian River was already struggling, with only weeks to turn around a four-year downward trend before the pandemic threw it into "seismic financial shock," as a corporate statement described it.
First-quarter figures won't be available for another year, but by the end of March, Steward Health Care was furloughing workers, including at Sebastian. It was among the first systems in the nation to do so.
At around the same time, Steward announced it would let patients decide with their physicians whether to postpone non-emergency elective procedures, effectively finding wiggle room in the CDC's guidelines and Gov. Ron DeSantis' March 20 executive order urging hospitals to postpone unnecessary elective procedures.
Those services are a major source of hospital revenue, but they can sap PPE supplies and occupy beds that might be needed in a COVID-19 surge.
"Our interpretation of this order is that the ultimate authority still rests with the medical decision making of individual physicians," said Darren Grubb, Steward's vice president of communications, in an email.
DeSantis' order was lifted May 4, after the first wave of cases had peaked, and so far, it has not been reimposed even through the summer second surge.
Whether increased numbers of patients actually sought elective procedures at Sebastian River won't be known until the next batch of ambulatory procedures figures are released next year.
But there was another decision on Steward's part that may have supported Sebastian River's volume in the pandemic. It placed COVID-positive patients at its Rockledge hospital. That left hospitals in Melbourne and Sebastian essentially free of COVID inpatients, a move that may have influenced non-COVID patients deciding where to go for treatment while minimizing exposure to the virus.
And while volumes were dropping at Sebastian River, Steward apparently had little choice but to forge ahead with expansion plans. The 24 rooms that finally opened this summer – four years after the project started – brought the hospital's acute care bed capacity to 145, according to AHCA.
In rosier times, rather than furloughing workers, Sebastian River would have been hiring staff for the new wing. Instead, by mid-July, as completion of the wing was announced, the hospital was only staffing 87 of its beds, according to state reports.
Since Steward took over, Sebastian River has been late filing its prior year report. Twice, it has been fined by AHCA: a $4,000 fine last September, and a $2,040 fine from the year before. It was also fined $1,100 for the late filing of its ambulatory outpatient total.