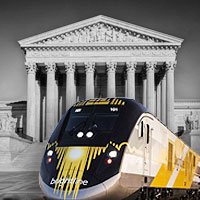 U.S. Supreme Court asked by county to hear last-ditch Brightline appeal
STORY BY GEORGE ANDREASSI (Week of September 17, 2020)

Indian River County's legal challenge against the Brightline passenger rail extension is an "excellent vehicle" for the U.S. Supreme Court to resolve legal issues concerning when federal courts can rubber-stamp government decisions, the county's appellate counsel argued last week.
"It concerns one of the most important issues before the federal courts – when judicial deference to informal agency interpretations of statutes is appropriate," wrote Jeffrey Lamken, in a legal brief filed last Tuesday.
Indian River County is challenging U.S. Department of Transportation authorization of $2.1 billion in tax-exempt bonds to help finance the extension of the Brightline passenger railroad from West Palm Beach to Orlando.
The county argues DOT improperly allocated highway project bonds to the passenger rail project.
"The critical fact is that DOT allocated bonds to a project that did not receive – and was not eligible to receive – federal assistance under Title 23 (Highways)," Lamken wrote.
Indian River County's appeal is among the cases the Supreme Court justices are scheduled to discuss at their Sept. 29 conference, records show.
The high court's decision on whether to hear the county's appeal could be handed down as soon as Oct. 5, records show.
The odds are heavily against the Supreme Court accepting Indian River County's appeal, records indicate. The high court hears about 80 cases per year, a little more than 1 percent of the 7,000 to 8,000 appeals filed.
Brightline plans to start running 34 passenger trains per day through Indian River County at speeds up to 110 mph by late 2022 after the completion of 170 miles of high-speed railroad tracks between Orlando and West Palm Beach.