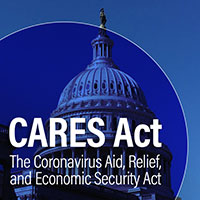 When will Indian River County get more CARES Act cash from the state?
STORY BY GEORGE ANDREASSI (Week of September 24, 2020)

Indian River County, like other Florida counties, has been in a strange limbo when it comes to spending tens of millions in CARES Act cash.
Indian River County was allocated $28 million in federal CARES Act funding to help deal with the local consequences of the pandemic, but the money flows through the state and so far the county has received only $7 million.
Meanwhile, the deadline to spend the CARES Act money is Dec. 30.
On Friday, Gov. Ron DeSantis finally announced a disbursement plan for the second round of CARES Act funding to counties with populations below 500,000, like Indian River. But the plan does not specify how much more money the county will receive.
Until Friday's announcement, Indian River County officials – and their counterparts in neighboring counties – were left to wonder if and when they would get additional money. And they are still in limbo about the balance of the funds, including the amount of the second round.
"We are still waiting on details of the amount of the second round of funding, as well as what an updated agreement with the state will look like," Brian Sullivan, the county's legislative affairs and communications manager, wrote in an email to Vero Beach 32963 on Monday.
In a memo earlier this month, prior to the governor's announcement, County Administrator Jason Brown wrote, "Due to the very short timeline to expend CARES Act dollars, staff is recommending the board consider an initial allocation plan for a portion of the remaining 75 percent."
In other words, given the tight spending deadline, the county decided to proceed with planning how to spend another $21 million, even though it did not know when, or if, the funds would show up in its bank account.
Indian River County has received its first-round allocation of $7 million in CARES Act money, 25 percent of its $28 million total allocation, records show.
That included $4.7 million earmarked for county and municipal and local state government agencies such as the Health Department, $1.6 million for community support, $500,000 for economic development grants and $200,000 for health care providers. 
Housing, food and social programs amounting to $3.1 million top Indian River County's list of needs for the second round of federal CARES Act funding, whenever that money arrives. Another $1.3 million would go to county and municipal agencies and $500,000 for economic development recovery grants, said Brown.
Indian River County has been having difficulties meeting residents' needs for housing and food assistance, records show.
Treasure Coast Food Bank spent the entire $400,000 it received in the first round, providing 2.6 million pounds of food to county residents since March.  Consequently, Brown has recommended another $400,000 for the Food Bank from the county's second round of CARES Act funding.
Brown recommended providing another $700,000 to the United Way of Indian River County, which is spending its initial $975,000 allocation on utility and rental assistance and mental health programs.
In addition, Brown recommended $2 million for housing and rental assistance from the second round of CARES Act money.
The county received 250 applications for housing assistance within 24 hours of the housing assistance program's opening on Sept. 14, records show.
Brown recommended adding $500,000 to the county's economic development program and widening grant eligibility to include event businesses, barber shops, nail salons, fitness centers, and tourism and hospitality-related companies.
County commissioners were to discuss the plan for spending additional Coronavirus Aid, Relief and Economic Security Act money at their meeting on Tuesday.