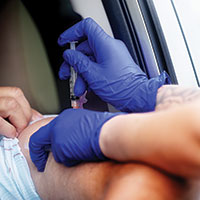 70,000 county residents have received at least one dose of COVID-19 vaccine
STORY BY LISA ZAHNER (Week of April 15, 2021)

More than 70,000 Indian River County residents have received at least one dose of COVID-19 vaccine as of press time Monday, and of those, more than 42,000 people are fully vaccinated.
That means more than a quarter of the county should be fully protected from serious COVID disease and hospitalization – which outpaces the state of Florida as a whole, where only one-fifth of residents are fully vaccinated.
Combining the number of locals partially and fully vaccinated with those recently recovered from infection results in heartening news that nearly half of all county residents have at least some level of immunity from COVID-19.
Despite those numbers, the local daily case count is up slightly this week – possibly due to the expected post-spring break hump from more people traveling over public school and college vacation time in March.
The number of new infections per day jumped from a daily average of 21 last week to 26 this week, but the positivity rate remained way below 10 percent, ranging from 4 percent to 7 percent over the past week.
Hospitalizations are still in the teens, steady from last week, with nearly half the county's intensive-care beds available as the week began. These statistics indicate that efforts to vaccinate the most at-risk residents in the senior and medically vulnerable population, as well as people in long-term care facilities, is having the desired effect.
The Indian River County Health Department is trying a new strategy to get more shots in arms by scheduling three walk-up, no-appointment-needed clinic days to get the first dose of the Pfizer vaccine at the Indian River County Fairgrounds.
The first walk-up day was this past Saturday, with two upcoming events offering 450 first-dose shots each day from 9 a.m. to 3 p.m. on Friday, April 16 and Friday, April 23.
All residents must show photo identification to get the shot. The Pfizer vaccine is approved for emergency use in people age 16 and older, but minors must have a parent present to sign off on teens getting the shot.
Pfizer BioNTech has applied to the U.S. Food and Drug Administration to expand its Emergency Use Authorization of the two-dose vaccine to children ages 12 to 16, based upon data from a limited clinical trial of a few thousand kids over recent months, claiming the vaccine is "highly effective" in younger patients.
The FDA has not yet scheduled a meeting of its vaccine advisory committee to review this request, which is likely to be controversial due to the experimental nature of mRNA-based vaccine technology in humans.