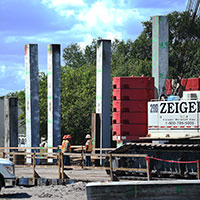 Brightline tracks from north and south to meet at county line
STORY BY GEORGE ANDREASSI (Week of April 8, 2021)
Photo: Construction continues on the railroad tracks south of 4th Street on Monday, April 5.

The heavy thump of pile drivers reverberates from south Vero Beach to Sebastian as Brightline constructs new railroad bridges for the extension of its passenger train service from South Florida to Orlando.
The $2.6 billion project appears bound for completion in late 2022 in Indian River County, the final bastion of resistance where county commissioners spent $4 million on futile legal challenges aimed at stopping the train project. That effort ended in October when the U.S. Supreme Court rejected a last-gasp appeal.
Brightline contractors have been working full blast on high-speed railroad tracks in neighboring Brevard and St. Lucie counties for several months, but construction activity in Indian River County has been spotty.
Whether coincidentally or intentionally, the construction schedule sets the stage for the linking of the new train tracks from the north and the south with a "Golden Spike" in Indian River County.
Brightline spokeswoman Katie Mitzner said the northern stretch of track will be joined to the southern stretch at the Brevard/Indian River County line, or the St. Lucie/Indian River County line.
Which county line, however, remains undetermined.
Brightline anticipates running 32 trains per day at up to 110 mph through Indian River County en route between Orlando and South Florida starting in early 2023.
FECR's 10 to 20 daily freight trains currently rumble through the county at approximately 40 mph in urban areas and 60 mph in rural areas.
Brightline's plans call for the construction of a new set of tracks and the upgrading of the existing Florida East Coast Railway tracks from West Palm Beach to Cocoa to handle the high-speed passenger trains.
Brightline is also building new high-speed tracks alongside State Road 528 from Orlando International Airport to Cocoa.
With all that work going on to the north and south, Brightline's only active construction sites in Indian River County are at the South Canal and the St. Sebastian River, where contractors are building new concrete railroad bridges in the FECR right-of-way.
A 250-ton crane started banging large concrete pilings into the ground earlier this year at South Canal as part of the construction of a new concrete railroad bridge alongside the existing 125-foot-long steel bridge.
Odorous smoke emanates from the rig during the rhythmic thumping of the pile-driving at the drainage canal just west of U.S. 1 between the 1st and 4th Street railroad crossings.
Pile-driving work is slated to continue 7 a.m. to 7 p.m., Monday through Saturday, through the fall on the $1 million bridge project, Brightline's weekly construction advisory says.
Several homeowners in the nearby Woodlawn Mobile Home Park complained the constant banging from the pile-driving operation shakes their homes and causes lights and televisions to flicker.
They are hoping construction will include a noise barrier wall to block the sound of the passing trains after Brightline cleared all the trackside vegetation that had previously absorbed some of the train and horn noise.
"It drives you nuts," said Tom Wojtowicz, a retired railroad mechanic who has lived in his well-kept trackside trailer at Woodlawn for more than eight years. "It literally shakes the ground.
"It loosens up everything," Wojtowicz said last Thursday. "I'm having problems with my lights in my house now. See how it's flickering."
Buffy Royal, who lives in the trackside trailer closest to the construction site, said the pile-driving makes her life more difficult when she has to work a night shift because the noise prevents her from sleeping during the day.
"I can't sleep in the daytime," Royal said. "My trailer is shaking, and I can hear that pounding as clear as day and I've got to go to work at night."
The trees and bushes Brightline cleared along the tracks last year should be replaced with a sound barrier to reduce the noise impacts to Woodlawn's residents, Royal and Wojtowicz said.
"They need to put a sound barrier up because when these trains come by and they blow that horn, it's way over 65 decibels," Wojtowicz said. "It will deafen you. It'll hurt your ears."
Meanwhile, on the northern end of Indian River County, Brightline contractors wielded a 290-ton hydraulic crane, driving piles for installation of a work platform along the west side of the 95-year-old St. Sebastian River Railroad Bridge.
Nearby homeowners also complained about noise and vibrations when pile-driving started in July.  Brightline's weekly construction advisory says pile-driving and demolition work will continue through 2022.
Brightline anticipates spending $33 million to build a new 1,625-foot-long, 2-track concrete railroad bridge. When that is complete, the company will demolish the historic steel bridge.
Brightline also plans to start construction on a $1 million concrete railroad bridge next to the steel bridge across the Main Canal in August and complete the span in May 2022, Mitzner said.
 In addition, Brightline expects to start construction on a $1 million concrete railroad bridge across the North Canal in January 2022 and complete the span in July 2022, he added.
Brightline has already made improvements to the Roseland Road railroad crossing that overlooks the bridge.
The company is currently chopping down and mulching vegetation along the existing tracks in Indian River County to make way for a second set of tracks. It's also clearing drainage facilities and making minor improvements at crossings from Vero Beach to Sebastian.
In addition, Brightline recently upgraded one of the most obscure railroad crossings in Indian River County, installing new warning signals, safety devices and utility boxes on a one-lane segment of Old  Dixie Highway between Sebastian Boulevard/County Road 512 and U.S. 1.
However, the railroad tracks and crossings in downtown Vero Beach remain virtually untouched.