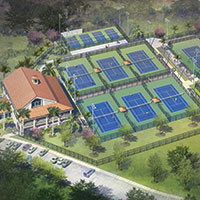 Expansion proposed for Riverside Park tennis complex
STORY BY RAY MCNULTY (Week of April 1, 2021)

The Mardy Fish Children's Foundation is seeking donors to fund a major renovation and expansion of the city-owned tennis complex in Riverside Park.
Plans for the $5.7 million project – which would include construction of a clubhouse and small stadium court that could be used for tennis tournaments and exhibition matches, along with refurbishing existing courts – were first presented to the city last year.
The complex would serve as a hub not only for local tennis players – the hard-court facility would not compete with the Vero area's private clubs, which all have clay courts – but for foundation-funded youth and afterschool programs.
The plan was put on hold when the COVID-19 pandemic arrived in March 2020 and shut down much of the economy, but the Mardy Fish foundation is now going public with its proposal.
"We're putting the word out and telling people what we'd like to do, and we'll see how they respond," Fish Foundation Executive Director Lynn Southerly said last week. "This is a very generous, philanthropic community with a lot of people who have money, and this is something that will benefit the entire community, not just the foundation.
"We're hoping people will embrace what we want to do here," she added, "because this can be a win-win for everybody."
The youth-oriented Fish Foundation, a charitable organization founded in 2007 by former top-10 tennis player and current U.S. Davis Cup Captain Mardy Fish, first approached city officials in January 2020, after the United States Tennis Association provided $30,000 to fund a site plan, artist rendering and cost estimates for the project.
In September, Southerly and other foundation representatives resumed talks with the city, meeting with City Manager Monte Falls and Recreation Director Jim O'Connell.
"It's still in a preliminary stage," Falls said. "They have a concept, and we think it's an exciting concept. Mardy has a great name in tennis, and the foundation has a strong local presence.
"We're available to talk any time they want to get back to us."
The foundation wants to refurbish the barrier island's hard-court complex and create a state-of-the-art tennis facility on the site where Fish learned to play and launched his career. The plan includes construction of a small, intimate stadium court named in Fish's honor within a landscaped, natural amphitheater.
"Riverside Park is where it all started for Mardy and him starting to love the game of tennis, hitting balls with me on that court in the northeast corner of the facility," said Mardy's father, Tom, the Windsor Club's tennis director and president emeritus of the Fish Foundation.
The foundation's wish list of improvements, with cost estimates provided by the USTA, includes construction of:
• A stadium court ($500,000), reconstruction of three courts ($75,000 each) and the resurfacing of six existing courts ($7,500 each).
• An 11,000-square-foot clubhouse ($2.75 million) with a 3,900-square-foot patio ($274,000).
• An additional 36-foot hitting wall ($120,000) and new walkways ($120,000) throughout the complex.
The renovated facility would continue to serve as the St. Edward's School tennis team's home courts, Southerly said, but the foundation hopes to attract other events, including junior tournaments, exhibitions and college matches.
Randy Walker, tournament director for the annual Mardy Fish Children's Foundation Tennis Championships, raised the possibility of the foundation bringing in another pro tournament.
"We have the men's clay-court tournament in the spring, and that's the foundation's biggest fundraiser," he said. "Maybe we could have a hard-court tournament – men's or women's – in the fall."
Citing Fish's USTA connections, Walker said such a facility also would have the potential to play host to early-round Davis Cup matches, though temporary seating would need to be installed.
He said a refurbished complex also could prompt men's and women's tour pros to train in Vero Beach, the longtime home of eight-time Grand Slam champion and Hall of Fame inductee Ivan Lendl, as well as former top-10 player and French Open finalist Mikael Pernfors.
The complex's facilities would remain open to the public when not being used by the foundation.
"If we can do this, it will benefit not only the foundation and our programs, but the entire community," Southerly said. "In a lot of ways, it would be a beautification project, too, because that section of the park doesn't match what's around it – or the neighboring homes."
"Vero Beach deserves something better there," she added. "The tennis complex area should be as pleasant to look at as the area with the art museum and Riverside Theatre."
If the community's donors answer the call, Southerly said a separate fund will be created for the Riverside Park project to avoid any confusion with the foundation's other fundraising efforts.
She said he hopes to "get some feedback" in the next couple of months.