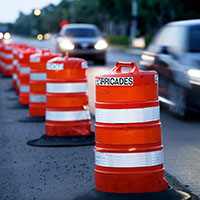 More excuses, little progress, on A1A road-widening and resurfacing project
STORY BY RAY MCNULTY (Week of April 1, 2021)

As the island cruises through the heart of its busy season, the fluorescent orange construction barrels that line A1A seem to have become a permanent part of the landscape – a situation intensely frustrating for drivers faced with confusing traffic lanes and unpredictable backups while no tangible progress occurs.
The Florida Department of Transportation has offered a series of excuses for why no work is being done and said repeatedly the project is ahead of schedule, but regardless, there is no question improvements on the island's main thoroughfare have stalled in recent months.
Throughout the first 90 days of 2021, Vero Beach 32963 readers have been phoning and emailing this newspaper, asking why no work is being done on the state-funded, $6.7 million road-widening and resurfacing project that began in June.
As of last week, Florida Department of Transportation officials continued to say the project – which covers a 6.74-mile stretch from just north of the Vero Beach city line to just north of Wabasso Beach and includes the construction of 7-foot-wide bicycle lanes on both sides of the road – is progressing ahead of schedule and will be completed this summer.
"If they say they are ahead of schedule, then they created a bogus schedule by padding extra months into it so they would not be accountable," Indian River Shores resident John McConnell said. "This may be the most inefficient road-construction project I've ever witnessed.
"And I'm a longtime bicyclist who is grateful for the new bike lanes."
McConnell was among the island residents who've said they haven't seen any significant progress since before Christmas.
FDOT's explanation?
There have been several of them.
First, project spokesperson Kathleen Dempsey cited "FDOT specifications," which she said prohibit work being done from Dec. 24 through Jan. 2 "to avoid impacting traffic flow during the holidays."
Then, in January, work was interrupted by what Dempsey described as "asphalt plant issues" that delayed the delivery of material needed to pave the roadway.
In early February, Dempsey said work had resumed two weeks earlier, but it was being done at night – between 8 p.m. and 6 a.m., Sunday through Thursday – to minimize the project's impact on the island's busy-season traffic flow.
However, island residents who contacted this newspaper said they saw little or no work being done at night in January, February or early March.
And now?
Dempsey said last week work had been suspended for the past three weeks because the site was being surveyed before crews would embark on the next phase of the pavement operation.
The survey will be completed this week, she said, adding: "We anticipate the contractor will return to the site and continue the paving activities in early April."
Dempsey said traffic will remain in the current configuration and both the northbound and southbound bike lanes will remain closed through the end of the project, which was initially scheduled for completion this fall.
Last week, the only stretch of the seaside highway where the traffic barrels had been removed was the section that runs along John's Island, but Dempsey said the entire construction zone remains active.
"I've been getting my share of calls, too, and I understand why," Dempsey said, "but we are making progress and the project is still ahead of schedule."