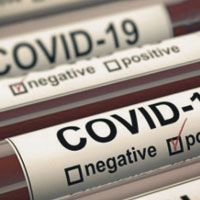 Only 7 new cases of COVID-19 on barrier island in the past week
STORY BY LISA ZAHNER (Week of April 29, 2021)

The new COVID-19 infection rate dropped significantly this week, down from an average of 26 cases per day to 20.7 cases per day – with the barrier island accounting for just seven of the 145 new cases.
The overall positivity rate of those tested also decreased in the seven days before press time, ranging from 3 percent to 5.1 percent and only exceeding 5 percent one day in the past week.
With vaccine supply more available and the Indian River County Health Department conducting its last two no-appointment-needed vaccine clinics last Friday and this Wednesday, nearly 77,000 people locally have received at least one dose of COVID-19 vaccine.
Nearly 51,000 county residents have completed their shot regimen as the county phases out the fairgrounds vaccine distribution effort next week. Going forward, people wishing to get the jab will need to make an appointment through a retail pharmacy, hospital or medical clinic, or at the health department's office at the county government complex.
A list of local vaccine providers and their contact information can be found on the Indian River County coronavirus resource webpage at www.ircgov.com/coronavirus.
For those still hoping for one-dose protection from the virus, the Centers for Disease Control and Prevention announced over the weekend that they were lifting the pause on the Johnson & Johnson-Janssen vaccine that was put in place after concern over a small number of severe blood clot incidents in mostly younger women. The shot can now be given with a warning about the remote risk.
As of press time Monday, 17 people were hospitalized due to COVID-19 illness and 72 percent of intensive-care beds were full at local hospitals.
The total number of COVID-19 cases here since the start of the pandemic reached 12,340 on Monday and three more people died of complications of COVID-19 over the past week, bringing the county's cumulative death toll to 293.