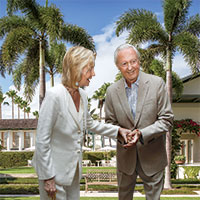 W. Galen Weston, founder of Windsor and developer of Orchid Island, dies at 80
STORY BY MICHELLE GENZ (Week of April 22, 2021)
Photomontage of Hilary and Galen Weston in the heart of Windsor's Village Centre.

W. Galen Weston, the Canadian billionaire whose vision transformed a strip of Vero's north barrier island into the internationally known residential enclave of Windsor, died at his home there last week.
Weston, who was 80, was known for his vigor and sociability, though his health had declined in the past several years.
The passing of the department store and grocery store magnate triggered headlines around the world. But his death caught many by surprise in the close-knit community of Windsor, which was muted in sorrow last week as residents allowed the family, especially Weston's widow, Hilary, to grieve in peace.
"Everyone here is just devastated," said Windsor resident Dhuanne Tansill, a prominent supporter of the arts in Vero who was unaware until recently that Weston's illness had progressed to a critical phase. "Nobody told us," she said.
"I wrote them a letter thanking them for everything they've done for us. They had such beautiful vision," said Tansill.
"He created what he set out to do," said Betsy Hanley, president of Windsor Real Estate. "He was visionary in the retail world, and he had this vision for here. He was a man of great achievement, but we'll remember him for what he's done for the community by creating this environment."
Windsor gave great pleasure to the Westons. "Mr. Weston definitely loved it but so does she," said Tom Fish, Windsor tennis pro who, over his 30 years there, came to know the Westons well. "They spent longer and longer amounts of time here every year.
"He was an amazing human being," Fish added. "He's going to be so missed. He loved people. The second he got here, he'd want to talk to everybody, all the members and all the employees."
"I don't know of any Windsor member who doesn't thank Galen Weston and his wife Hilary for creating an engaging, architecturally perfect community," said Cynthia Bardes, an interior designer and children's author who has a home in the community.
She praised Weston's creative vision, and said he embodied the Windsor mix of "total elegance" with a "fabulous and fun lifestyle."
Tansill recalled an outdoor dinner party where she shared a table with Weston and Sen. Rick Scott. "We talked mostly about politicians," she said. "He was the most handsome man and so easy to talk to and very clever."
Politicians, celebrities, dignitaries and even royalty often come and go at Windsor without a mention beyond the community's gatehouse. Such strictly guarded privacy also extends to residents, a tradition of discretion much valued by the Westons themselves.
The family still bears the trauma of being targeted for kidnapping by terrorists in Ireland in 1983. Police were tipped off to the plot, slated to occur at the Westons' home south of Dublin, and the family stayed away.
Galen Weston was in England playing polo with Prince Charles when a decoy car put in place by anti-terrorist police lured a half-dozen masked gunmen into the open at the estate. Police engaged them in a shoot-out that left several of the accused wounded.
After that, the Westons began spending more time at homes in Canada and the U.S.
In his business life, Weston took over management of Loblaws supermarkets in Canada in the 1970s. The stores, part of his family's Canadian business empire, were faltering. Weston led a turnaround that included the introduction of a successful private-label food line and transformed the chain into what is today the largest food retailer in Canada.
His retail holdings continued to grow when he bought the Canadian department store company Holt Renfrew in 1986, London-based Selfridges department stores in 2003, and Canadian drugstore chain Shoppers in 2013, paying $12 billion.
For their tropical vacations in earlier years, the Westons stayed mostly in the Bahamas, renting "little shacks" on Harbour Island and Eleuthera, as Hilary told Architectural Digest.
Later, at the urging of Weston's father, who knew Florida well, they began to look for a place to build a home on one of Florida's barrier islands. In northern Indian River County, they found a 400-acre swath of grapefruit groves north of Wabasso Causeway.
If he was going to build his family a private home from scratch, Weston thought, why not create a private village to put it in?
To create that village, the Westons turned to a much talked-about emerging concept, New Urbanism, that had captured the imaginations of many planners, chief among them, Miami-based architects Andres Duany and Elizabeth Plater-Zyberk. Considered pioneers of the movement, the team was already turning heads with Seaside, a second-home community in Florida's panhandle.
In the late 1980s, Weston recruited them to design Windsor, where they created a site plan that melded close-set, lushly landscaped, Anglo-Caribbean residences on a simple grid of narrow streets. Five of those lanes meet at the Village Centre, designed by Vero Beach architect Scott Merrill, and the focal point of Windsor's stunning entrance, a shaded allée that leads from Highway A1A to the Village.
Hilary Weston took over designing the interiors of seven homes built to represent the Windsor standard.
Recruiting would-be neighbors for their "village by the sea," the Westons invited friends and celebrities to visit.
"In the beginning the Westons would bring a lot of their personal friends and celebrity guests," recalled Fish. "Right away, we had all sorts of interesting people here. Once the tennis center got built, tennis became the center of lots of activities – tennis round robins, beautiful lunches at the tennis courts."
As more homes were built, the Westons moved from one to another until finally building the house of their dreams.
A golf course and polo field were added to the community and larger homes were built outside the village around the perimeter of the 425-acre property, along with a South Village section, oceanfront residences that sell in the $10 million range and other housing types – development that continues today.
In 2018, Windsor Properties debuted the Windsor Park Residences, luxury condominiums overlooking the Indian River Lagoon, and Windsor North Village, an enclave of single-family homes on the last 47 undeveloped acres in the community, currently is being permitted.
There is no better proof that Weston and his designers saw the future in his vision than the fact that 30 years later, Windsor is drawing increasingly younger buyers.
"The average age of buyers is 55 now," said Tansill. "We've got all these wonderful young families moving in."
"This place – this is a dream of a new way to live, and the new way to live is like living in a little town," said a longtime Windsor resident who asked not to be identified. "It's a very comforting place, where everybody knows you and everybody cares about you. There is neighborhood solidarity – and that's him. He fought for that, he made it happen. And of course, he was helped tremendously by his wife Hilary."
Weston became an increasingly familiar presence at Windsor after turning over the reins of the family companies to son Galen Jr. and daughter Alannah.
And he never stopped having a hand in Windsor's ascent toward residential perfection. As curious as he was gregarious, Weston typically arrived at Windsor eager to find out the latest from staff and residents alike. Then he asked what they thought of his latest ideas for improvements.
"When he came to Vero he wanted to talk to everybody and anybody," said Fish.
Galen Weston met Fish by chance at a nascent development next door to Windsor: Orchid Island Golf and Beach Club.
When Orchid's original developer failed in 1994, Weston bought the community and oversaw completion of some 300 homes there before turning it over to residents, putting his stamp on a second iconic island country club community.
Fish was Orchid's tennis pro when Weston invited him for a lunch that "didn't really feel like an interview, it felt like a really nice chat – with really good food."
Weston ended up offering Fish a job as Windsor's pro. "There weren't even any courts yet, there were maybe three houses built," Fish recalls. "I didn't understand the concept, but I didn't care."
Fish stayed on at Windsor, calling his job the opportunity of a lifetime. "He was a wonderful blessing to my family," said Fish, who credits Weston with supporting his son, Mardy Fish, in his efforts to turn pro.
"He changed the path of my life as well as my children's and my grandchildren's."
"He's been such a good person to me, a good boss and a good mentor," said Fish.
 Fish was invited more than once to the Westons' summer home in England, Fort Belvedere, a country house on 100 acres, best known as the one-time home of King Edward VIII. "I got to play on the beautiful grass courts," said Fish. "Every time I visited, I couldn't believe I was there, it was just so magical."
Weston was a sportsman in many realms, and "very competitive," Fish recalled.  In addition to tennis, he was an excellent squash player. He also played golf, particularly in his later years – Tansill remembers him playing with his son, Galen Jr. and Ivan Lendl, the former tennis champion who has a home in Windsor.
By far, the sport that won Weston the most publicity for his Vero development was polo. Twice, Weston welcomed Prince Charles to Windsor when it first opened its equestrian facilities.
It is doubtful that Vero Beach ever enjoyed more spectacular press, with an international audience following the Prince down the field.
Weston got his fair share of the spotlight too, with Canadian and U.K. press having covered him since he first took over the family business from his own news-making father.
Galen was born in 1940 in the town of Marlow, 30 miles west of London.
The youngest of nine children, he grew up watching his Canadian father Garfield Weston build a grocery store empire out of the bread bakery business started by Galen's grandfather.
In 1962, at age 22, Weston moved to Ireland to break out on his own, away from his enormously successful father. He opened a grocery store, adding five more in three years. In short order, he bought a Dublin department store in bankruptcy and developed it into a chain of 16.
By then, Galen had met and married Hilary Frayne, Ireland's best-known fashion model, after admiring her image on a billboard and having a friend who knew her set them up for a date.
That Irish style icon of the 1960s is the namesake of Frayne Drive in Windsor, and the force behind the polish in Windsor's pastimes and parties.
In Vero, the Westons never stopped rarifying Windsor, always looking for ways to inch the enclave ever closer to their ideal.
Among Galen Weston's last alterations was a major upgrade of the Windsor golf course.
The 2019 redesign by Robert Trent Jones II, the course's original architect, reopened in October of that year in honor of Windsor's 30th anniversary.
The Westons recently redesigned the oceanside pool cabanas to finally include a view of the ocean from the outdoor area of the beach club. "They built this fantastic cabana bar looking out over the ocean, which everybody loves," said Dhuanne Tansill. The spa is also getting a redo, she said.
Through all the improvements, residents of Windsors were never assessed fees, a remarkable gesture on the Westons' part.
"He was exceedingly generous," said one resident who preferred not to be identified. "Most developers do this or that and they assess you. Galen Weston never assessed any of the residents for anything. That is unheard of in a development."
"They wanted this to be wonderful," said Hanley, who has worked at Windsor for 26 years. "They were constantly reinvesting in the community."
At one point, Weston opted to remedy a major snag in the "walkable" town he created; residents had to cross a state highway – albeit the narrow and not heavily trafficked A1A – to get to the ocean and pool.
To fix that glitch, Weston decided to build an underground tunnel, not a unique idea along that stretch of the beach but certainly an expensive one. The Westons absorbed the cost.
"He was committed to the project of Windsor, an extraordinary commitment that I had never seen before," said the resident. "It's a burden to be a capitalist with feelings because you have to prove yourself every step of the way."
"It's really sad," said Fish. "He's going to be so missed."