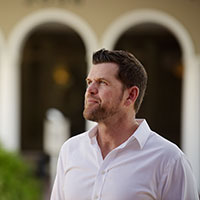 21st Amendment Distillery to open in Vero downtown
STORY BY STEPHANIE LABAFF (Week of August 19, 2021)
Photo: Jeff Palleschi in downtown Vero Beach on Sunday morning, August 15. Palleschi is preparing to open 21st Amendment Distillery on 13th Avenue in downtown Vero, directly across from the Post Office.

If the city approves, area residents can look forward to a distillery and tasting room – the 21st Amendment Distillery – opening in February in Vero's old downtown across 13th Avenue from the Post Office.
Jeff Palleschi, an ex-Marine who became passionate about bourbon while serving in the U.S. Marine Corps, says he had time to develop and set in motion plans for the distillery during the COVID-19 lockdown when he could not travel as a sales representative for manufacturing companies.
"I knew what I wanted to do, so I started planning and saving money. I was consumed with it. I learned everything I could about it and, now, here we are," Palleschi said.
"We're going to start small in Vero, then expand across the Treasure Coast and Florida's East Coast. I want to work my way up to New England and eventually be a household brand."
For him, the distillery's name – 21st Amendment Distillery – means more than the end of prohibition in the United States. It stands for unity.
"The country right now is not as united as it has been in the past. We're going through some difficult times. The 21st Amendment is our history.
"To me, the 21st Amendment is all about an America where people united. It sums up who we are," he said, noting that bourbon is America's spirit.
In the U.S., bourbon must be produced from at least 51 percent corn and aged in new charred oak barrels. The type of grain and barrels used differentiate bourbon from other whiskeys.
"Bourbon is ours. It's made in America. That 21st Amendment bleeds over into what I'm trying to do. I'm trying to bring back that 'buy American' mentality. To put Americans back to work. All my equipment will be made in America," said Palleschi.
Since bourbon must age for four years, Palleschi says he plans to open the tasting room with aged bourbon sourced from an established distillery. It will be bottled in Vero Beach under the 21st Amendment label until his bourbon has been aged. The fourth year, the bourbon Palleschi distilled and aged will be ready for bottling.
Harkening back to the 1700s, when barrels were placed onto flatboats where the bourbon aged as it traveled along the rivers, Palleschi believes in the science that states constant motion in the barrel creates better color and flavor. He is having a barge built so that he can age the bourbon on a floating rickhouse on the Indian River Lagoon.
"The theory is that it's going to impart a lot of different flavors. It won't be a quicker age, but it will give the bourbon a very unique flavor. That's going to impart flavors from the lagoon. The brackish water and sun can't be replicated anywhere else," he explains.
Bourbon won't be the only thing produced at the distillery. Palleschi says gin, vodka, cellos, bitters, bourbon barrel coffee and, eventually, rum will be made on-site as well. Taking advantage of local citrus availability and fame, he plans to offer orange, grapefruit, lemon and lime cellos along with canned cello seltzers.
"Indian River County is the citrus capital of North America. That's incredible. I am going to honor where we've come from," he said.
Wanting to keep everything hyper-local, Palleschi said they would be using Florida corn. Then, instead of throwing away the spent grain – the grain byproduct after distillation – it will be donated to local farms to feed livestock.
The distillery's 5,000-square-foot space once housed one of Vero's first grocery stores, according to Palleschi. In addition to the distillery production area, he plans to have a full bar, tasting room, retail area, private tasting rooms and event space. He envisions the bar area in leather and old wood with a speakeasy vibe reminiscent of the Roaring '20s.
You'll be able to take a tour, taste the products, and purchase your favorite bourbon, gin, cello and more. Working with a new restaurant opening next door, Palleschi says they plan to have food available as well.
"We'll give tours of the production area every day, have some special release bottles, a 'bottle your own spirit' program and a younger whiskey – an entry-level whisky that's a little bit lighter," shares Palleschi of a few things he plans to offer.
"Making bourbon is a form of art. One thing I'm going to be crazy about is our consistency. We will document how much water we use and how much corn, down to the kernel. It's important to do that, especially in the beginning because you're trying to get your recipes down. Consumers want a consistent product. That's where art and science meet," says Palleschi.
Look for the new craft distillery to begin offering off-site tastings of hand-crafted spirits in late 2021, with a projected 2022 opening of the on-site distilling operation and tasting room.