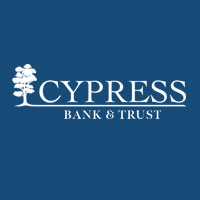 Barrier island about to get new bank
STORY BY A STAFF WRITER (Week of August 5, 2021)

The Vero Beach barrier island is about to get a new bank.
Cypress Trust Company, which currently has an office providing trust and investment management services at 4625 A1A, announced Monday that it had received full regulatory approval from the Federal Reserve to convert to a bank and trust under the name Cypress Bank and Trust Company.
The Palm Beach-based bank said it plans to launch its "new suite of banking services this month, at four of its existing trust offices across the state of Florida" in Vero, Palm Beach, Melbourne and Jacksonville.
"In business for more than two decades, we have a strong financial history, with deep connections to the local communities," Dana Kilborne, CEO and president of Cypress Bank & Trust, said.
He said Cypress will "continue to deliver trust and investment management services, as it has for the last 25 years," but that it also will provide business and personal loans, lines of credit, checking and savings accounts, debit cards and ATM usage, and online and digital banking.
Cypress said it had started the process of chartering a bank in 2019, "but recent changes in the economic climate due to the COVID-19 pandemic have made community banks even more critical – especially to small business owners.