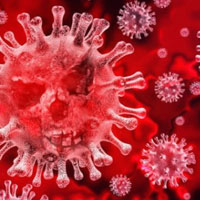 COVID-19 soars, but no back-to-school mandates permitted
STORY BY GEORGE ANDREASSI (Week of August 5, 2021)

As COVID-19 spikes in Indian River County, it's up to individual students and educators to protect themselves against the virus by getting vaccinated and wearing facemasks for next Tuesday's reopening of public schools.
School Superintendent David Moore and the School Board have been rendered powerless to require facemasks or COVID-19 vaccinations by state laws banning local mandates, even as Florida set a record for new cases in a single day on Friday with 21,683.
New COVID-19 cases jumped 81 percent in Indian River County in the past week and more than six-fold in the past four weeks to 682, the Florida Department of Health reported on July 29.
The positivity rate in the county rose to 18.7 percent in the past week, a 21 percent increase compared to the previous week, state Health Department records show.
Indian River County's positivity rate as of July 29 was three times as high as July 1 when 6.2 percent of the county residents tested for COVID-19 were diagnosed with the virus.
The number of COVID-19 cases per 100,000 people in the county also increased 81 percent in the past week and more than six-fold in the past month to 424 cases per 100,000.
Despite those dire numbers, Moore's response to the spike in all three COVID-19 indicators in Indian River County was more symbolic than substantive.
Facemasks, which had been "optional," now are "highly recommended" for students and employees when social distancing is not possible, Moore said during the July 27 School Board meeting.
Moore told the School Board he wanted to "start the school year with district policy officially, highly recommending masks be required when social distancing is not possible."
School Board Mara Schiff questioned the distinction.
"You said we are shifting from 'mask optional,' to 'mask recommended,'" Schiff noted. "That's not quite a switch. What am I missing?"
But Moore called the new policy "a higher level of awareness."
The school district is also going to retain a variety of other health and safety procedures put in place during the last school year for the pandemic, such as maintaining one-way hallways, social distancing measures and hand sanitizer stations in classrooms, Moore said.
"For us to do nothing would be the inappropriate action to take," Moore said. "We do want to begin the school year with a heightened level of precaution."
School Board member Jacqueline Rosario objected to the change and noted the state of emergency for COVID-19 has been lifted in Florida.
"Numbers are going up, but next week they could come down again," Rosario said. "I'm not ready to mask our kids or do social distance or anything like that. Right now, I do not see the need for us to move forward with anything limiting our kids."
Board members Peggy Jones said she's been receiving correspondence from parents who are concerned about the dramatic rise in COVID-19 cases and positivity rates.
"We are hearing from parents: 'What if this spikes more, what do we do?'" Jones said. "Our hands are tied with DOE and Gov. (Ron) DeSantis."
While the School Board can't mandate COVID-19 vaccines or facemasks, Jones said she's urging students and educators to voluntarily take shots and wear masks to reduce their chances of contracting the virus.
She supported Moore's action: "We can highly recommend masks," Jones said. "There is nothing wrong with highly recommending that."
"Whether we want to admit it or not, this is a divide," Jones said about the political rancor surrounding the school district's mandatory facemask policy for the 2020-2021 school year. "This is a divide and I want to make sure our kids are OK. I want to make sure students have absolutely no issues if they're wearing masks.
"We can encourage vaccines," Jones said. "We cannot mandate that. I understand. But we can also say that would be very helpful. We can highly encourage.
"The most important thing for me as a board member is the safety of our students and staff and working together," Jones said. "We want our students safe and our staff members safe."
Moore said he'll call an emergency School Board meeting to discuss a heightened response if the pandemic takes an even more dramatic turn for the worse and/or if DeSantis issues new executive orders.