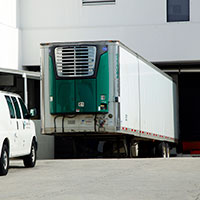 COVID-19 surge filling ICUs at local hospitals
STORY BY MICHELLE GENZ (Week of August 19, 2021)
Photo: A refrigeration truck is staged at a bay behind the Cleveland Clinic Indian River hospital.

The COVID-19 surge here is pushing local hospitals closer and closer to the breaking point.
More than 100 COVID patients were hospitalized at Cleveland Clinic Indian River as of Monday, doubled up in rooms. Twenty patients were packed into the hospital's ICU, also two to a room, most on them on ventilators.
"They are turning the post-anesthesia recovery area into an ICU," a doctor working long hours with COVID-19 patients texted. "After that, no further ICU beds. We're gonna be in TROUBLE!!!!!!"
Nearly every day, COVID patients die, sometimes as many four in a day. In preparation for bigger troubles ahead, a refrigerated truck was staged at a bay behind the hospital; it has not yet been pressed into service as a temporary morgue, a spokesman said.
But he added: "We have taken a number of steps to ensure we are as prepared as possible if the current COVID-19 surge continues for an extended period of time."
Healthcare workers are quitting in exhaustion, or catching COVID-19 themselves. Cleveland Clinic earlier this week was forced to cut the outpatient clinic schedules of its physicians in half to use their staff to shore up the ranks in the hospital. This followed an earlier decision to postpone all non-emergency surgeries.
According to the latest federal hospital utilization records, all four hospitals in our area are essentially at capacity, with 245 out of 245 beds occupied at Indian River and 379 out of 407 occupied at Lawnwood in Fort Pierce.
Two hospitals serving northern Indian River County appear to have pressed beds into use beyond their usual capacity: The report shows 89 out of 80 at Sebastian River, and 136 out of 132 beds occupied at Palm Bay. Where they are finding staff for those extra beds is hard to imagine.
There were no ICU beds left at Lawnwood or Palm Bay last week. There were four at Sebastian River and three at Indian River.
No hospital beds, exhausted staff, school starting.
Yet barely half of county residents are fully vaccinated – around 53 percent. And the county's COVID positivity rate is 27 percent.
Amid all this frightening data and cries of distress, there is a parallel universe in our local government, where it is as silent as space.
When county administrator Jason Brown declared a State of Emergency last week, he called the move strictly administrative – a way to smooth the path to getting supplies, should they be needed.
The health department's website display on generators, meanwhile, is equal in size to the one on where to find a COVID vaccine – and the covid  vaccine link on Monday didn't even work. Other less prominent links lead to alerts from more than a month ago.
Last week, Gov. Ron DeSantis hinted that bringing back a county breakout of cases and deaths from COVID-19 "might not be a bad idea."
The governor failed to mention it had been he who abruptly canceled the daily reports on June 3.