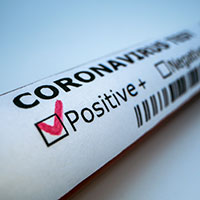 Death toll here from delta surge finally becoming clear
STORY BY MICHELLE GENZ (Week of August 26, 2021)

Just how many people have died here since the Delta variant took over has been not been easy to determine, since the governor's office pulled down the state's COVID-19 dashboard in early June, and also stopped reporting deaths by county.
It also ceased reporting on COVID cases and death in individual long-term care facilities.
When the Delta surge spun out of control and schools prepared to open, Tallahassee continued to withhold the local data from the public, though individual hospitals, certain doctors and clinics are getting some information on a weekly basis from local health departments.
This data shows that in the past month, through Aug. 21, the county logged 44 COVID-related deaths, though a change in the way deaths are reported has likely added to the lag time. Overlapping that report is word from Hospital District chairwoman Marybeth Cunningham that 14 people died in one weekend at our hospital. Those deaths took place over Aug.14 and 15, an official told Cunningham.
It's not known if the state has logged those deaths yet. Assuming those deaths are included in the official tally, Indian River County has seen 59 residents die of COVID since early June.
In that same time frame, there have been at least 17 long-term care-related deaths logged with the state in Indian River County, six of them last week The total deaths of long-term care residents here now stands at 138. That's nearly 40 percent of the 365 total deaths in the county.