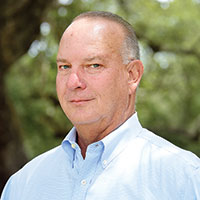 Deryl Loar runs for County Commission
STORY BY RAY MCNULTY (Week of August 26, 2021)

Nearly nine months after leaving office, former sheriff Deryl Loar said last week he plans to run for office again next year – this time for Peter O'Bryan's District 4 seat on the County Commission.
O'Bryan, who was first elected in 2006, announced shortly before he was re-elected in 2018 that he would not seek a fifth term in 2022.
"It took me eight months to realize I have a lot left in the tank," said Loar, 53, who served 12 years as sheriff but chose to not seek a fourth term in 2020, when his hand-picked successor, Eric Flowers, was elected in a landslide.
Loar said he believes his 30-plus years in law enforcement – he spent 20 years with the Florida Highway Patrol before becoming the sheriff here – provides the local knowledge, leadership experience and public recognition needed to serve on the commission.
"I certainly care about this county," he said, adding that he had been approached with job offers that would've required him to move, including "some interest" in him as a candidate for the Florida House of Representatives.
"There was one position in Tallahassee I really thought about," Loar said. "But it came down to: Do I want to move?"
Apparently not. Instead, Loar said he probably will file his paperwork with the county's supervisor of elections and officially become a candidate in the fall – after he's certain his residence will remain in District 4.
The Florida Constitution requires the state's 67 county commissions to set new district boundaries every 10 years, after they receive the latest population numbers from the U.S. Census Bureau.
County Attorney Dylan Reingold said the county staff is expected to present a new district map to the public on Oct. 19, and the commissioners would vote to finalize the new boundaries at their Dec. 7 meeting.
"I'll wait and see, just to be sure the lines don't change," Loar said. "I wasn't planning to say anything this early, anyway, but the word started leaking out. There's no rush. It's not like people don't know me.
"I still have a lot of name recognition in the community," he added. "Whenever I go to Publix or Home Depot, people come up to me and ask how I'm doing. The question now is: Will they vote for me?"
Currently, Joann Binford is the only candidate to file for the District 4 race, but with no incumbent running, others are expected to jump in.
Loar said he decided after his re-election in 2016 that he would not pursue a fourth term "because the climate in law enforcement was changing" and he had "been on call since September of 1991, carrying two phones for years."
He said he bought a home in District 4 in 2017, after O'Bryan announced he wouldn't seek re-election in 2022 – so, clearly, Loar has been considering a run for the county commission for years.
"The County Commission would be a lot less stressful," Loar said, adding that his learning curve wouldn't be overly challenging.
"I know this county, having worked with the County Commission for 12 years as sheriff," he continued. "I know the players. I know the issues. I've made big decisions.
"I also know serving on the County Commission is different: It's all about how you can make the county better, which includes dealing with not only the big issues but also the little stuff."
Even during his retirement from law enforcement, Loar said he still reads the County Commission's agenda and watches its meetings. Loar said he talks with Flowers on a weekly basis, often about some ongoing issue from his time as sheriff. He offers advice only when asked, telling his successor: "You bought the house. You can paint it any color you want."
Loar is not the first former sheriff to seek election to the County Commission. Gary Wheeler bounced back and forth between his commission seat and sheriff over more than two decades, serving a total of 22 years in public office. Wheeler was elected to the County Commission in 1986 and re-elected in 1990 before resigning his seat to run for sheriff in 1992, when he defeated incumbent Tim Dobeck. After eight years as sheriff, he was defeated in 2000 by Roy Raymond. Wheeler then defeated District 3 incumbent county commissioner Ken Macht in 2004 to regain his commission seat. Wheeler was re-elected in 2008 and retired from politics in 2012.
O'Bryan welcomed Loar's candidacy, saying he believes the former sheriff has the makings of a successful commissioner.
"This job is all about serving the public, helping people with their problems," O'Bryan said. "He's been a public servant for a long time."
For the past eight months, however, Loar has spent much of his time fishing, shooting sporting clays, doing yard work and having lunch with friends. He said he doesn't play golf, but he wakes up at 6:30 every morning "without an alarm clock." He has taken a few trips out of town, but after a few days can't wait to get home.
Loar also does volunteer work with the VNA Hospice House in Vero Beach, where he visits with people during their final days. "I've met some very interesting people and heard some remarkable stories," Loar said. "No one should die alone."