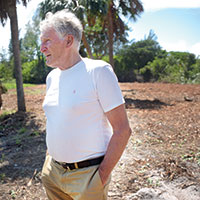 Island landowner cited for turning wooded tract into 'moonscape'
STORY BY GEORGE ANDREASSI (Week of August 12, 2021)
Photo: Robert Vander walks through the area next to his home that has recently been clear cut.

An island landowner has been cited by Indian River County for clearing a 3-acre wooded tract near Round Island Park without a permit, leaving what a neighbor describes as "a moonscape" in place of wildlife habitat where a family of bobcats and abundant birdlife resided.
Senior Environmental Planner Steven Hitt inspected the property at 1845 S. Highway A1A, last Tuesday and issued a notice of code violation to the owner, Charles J. Schiltz, who lives on Wyn Cove Drive on the island.
One suspected violation involved the removal of an unspecified number of protected native and specimen trees without a permit, county records show.
The maximum fine is $1,000 for each protected tree removed and $15,000 for each specimen tree. Specimen trees are hardwood trees that are in good health and have attained a certain size and diameter specified by the county.
The other suspected violation involved possible impacts to estuarine wetlands without a permit, as the cleared lot is adjacent to the Oyster Bay Marsh conservation area.
To avoid fines, the landowner can apply for an after-the-fact permit by paying triple the typical fee and proving to the county that no wetlands were impacted by the deforestation.
"There was an incredible amount of damage," said Robert Vander Straten, whose yard adjoins the cleared property. "We used to have a swath of 30-feet of trees and bushes, a canopy of trees from the road, all the way to where we live. He chopped it all down, all the way up to the property line.
"A family of bobcats that lived in that forest would come regularly up through our yard," Vander Straten said. "So that's gone, along with the birdlife. There is nothing for a bird to sit in anymore, so they go somewhere else."
Vander Straten told Vero Beach 32963 that the tract contained old growth oak and Ficus trees, and that he saw stumps 4 feet in diameter when he inspected the botanical wreckage.
Based on what he saw, he reported the clearing to the county Division of Environmental Planning and Code Enforcement and provided photos of tree stumps, prompting Hitt's visit and the code violation citation.
Vander Straten says the deforestation would have been even worse if not for his wife, who stopped the equipment operator from cutting down the largest Ficus tree on the property.
"I wish I could have stopped them earlier," the petite senior citizen said Friday. "I could not get close because that machine was very dangerous, and they could not hear me."
Once she finally got the mower operator's attention, she asked him why he was clear-cutting the forest.
The operator said, "I don't know, they just pay for me to do it," according to Alice Vander Straten.
As the operator continued toward the Ficus tree, "my wife told him there was no way he was going to cut that," Robert Vander Straten said. "She jumped right in front of the machine and said, 'You stop right here.' So, he stopped. My wife is the hero of the story because she actually stopped the guy."
Mary Schiltz is listed as the contact on a "For Sale" sign posted on cleared parcel. According to Vander Straten, she said in a phone conversation last week that she had the work done at the request of a potential buyer who "wanted to see where the exact boundaries were."
Mary Schiltz did not respond to emails or telephone calls last week inquiring about the situation.
"The damage is done pretty much," Vander Straten said. "It's an ugly piece of deadland right now, full of broken trees and very large mulch."
The county gave Schiltz until Sept. 24 to pull belated permits or otherwise correct the suspected violations to avoid fines, records show.
"The Oyster Bar Marsh Conservation Area is a large mangrove wetland/impoundment that extends from the barrier island into the Indian River Lagoon," according to Indian River County. The 96-acre tract is home to numerous bird, fish and other animal species and its "proximity to the Round Island Conservation Area creates a broad, shallow expanse of river bottom suitable for seagrass establishment and manatee foraging."