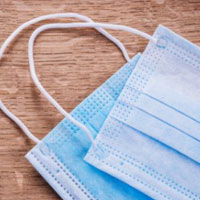 Local private schools open with mandatory facemasks
STORY BY LISA ZAHNER (Week of August 19, 2021)

While public schools grapple with whether to defy a statewide executive order and require facemasks on campus, local private schools took action, deciding it was time to mask up indoors – at least temporarily.
The evening before the first bell of fall classes rang at St. Helen Catholic School in Vero and John Carroll Catholic High School in Fort Pierce, the Catholic Schools Office of the Diocese of Palm Beach declared a mask requirement for students, teachers and staff.
"While the diocese was hopeful to re-open our schools this August with the protocols and guidelines that were circulated to parents on July 15, 2021, the significant increase in positive cases and the high level of community transmission indicated below, call for a temporary return to the requirement of facial coverings or masks indoors, on buses and in large gatherings for all individuals (teachers, staff, parents, visitors, students K-12) on our school campuses," the Catholic Schools Office memo reads.
On the barrier island, St. Edward's School started classes on Wednesday, with a requirement of masks for everyone on campus on a temporary basis.
"We are going to be masked indoors for the next 30 days, with a plan to re-assess and communicate any changes after that time period," said school spokesperson Monica Jennings.
"Our Head of School Dr. Stuart Hirstein (who is an Army Desert Storm veteran) put it so well," Jennings said. "He said, 'Why would we go into battle without our armor? You can always take your armor off if you don't need it, but it's pretty tough to put it on in the heat of battle.'"
While St. Ed's will weigh the data in 30 days to determine what's best for its students, the Palm Beach Diocese cited the case positivity rate as one of several benchmarks for hopefully getting rid of masks at some point in the school year at St. Helen and John Carroll.
According to the latest CDC data, Indian River County is reporting a 26 percent positivity rate, which is more than two and a half times the level school leaders want to see.
"Factors such as the county case rate consistently below 100 per 100,000, the new case positivity rate below 10 percent and the transmission level at moderate or low, will allow us to reconsider having facial coverings/masks as optional rather than required. Decisions will be made on a county-by-county basis based on a monthly review of data," the memo stated.
The last-minute memo described the situation with COVID-19 and its variants as "very fluid."
"The path of the virus has pushed our medical and governmental authorities to respond in different ways at different times. The Catholic Schools Office of the Diocese of Palm Beach continues to follow the data and make our decisions as to what we think will be the safest protocols for our children, faculty and staff," the memo said.
"Parents have voiced strong opinions on all sides of many of these issues such as whether to vaccinate or not, and whether children should wear masks or not. We have taken your comments and the supporting evidence under consideration.
"Keep in mind that one's personal choices may also impact others. In this regard we want to protect all of the children entrusted to our care. None of us would want to be responsible for the transmission of this virus to another person," it stated, noting that the decision was made not only by officials at the diocese, but also by local school principals, as well as officials in the neighboring diocese. Both Miami to the south and Orlando to the north are requiring masks, too.