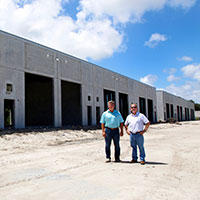 Luxury storage units snapped up by car collectors
STORY BY STEVEN M. THOMAS (Week of August 26, 2021)
Photo: Vic Lombardi and Joe Schulke at the Vero Beach Autohaus. Their second project, now under construction at 4235 U.S. 1, sold out by the time the foundation was poured.

Vero home prices are soaring. Retail and office space is at a premium. But would you believe one of the local real estate market's fastest sellers may be –  storage units?
That's right. High-end, super-secure, luxury storage units built like bomb shelters that can be customized with mezzanine levels, car-lifts, bathrooms, kitchenettes, wine bars and big screen TVs.
Originally intended as places for wealthy island car collectors to store their classic vehicles and hang out with friends while turning wrenches or watching sports with a cold beer at hand, they are attracting people with motorcycles, boats, RVs and other valuable things to store as well.
And since Vic Lombardi and Joe Schulke discovered this untapped niche in the real estate market in 2018, demand has outpaced supply.
Their first 37-unit project – Vero Beach Autohaus at 950 12th St. not far from the 17th Street Bridge – sold out within a few months of completion, at per-unit prices ranging from $139,900 to $249,900.
Their second project, now under construction at 4235 U.S. 1, sold out by the time the foundation was poured.
Now, the partners are now moving ahead with plans for a third development that will be bigger than the first two combined, with 100 units comprising 100,000 square feet of space.
Prices will start at $179,900 and go up $299,000, according to Lombardi, owner of Waters Edge Estates, who has built some of the most notable luxury residential structures on the island in recent years.
Schulke, a partner at Schulke, Bittle, & Stoddard, describes himself as a "hands-on car guy," and the inspiration to build oversize, customizable storage units that meet the fire code for vehicle storage came when he and group of friends were searching for a perfect place to store and work on their collectable cars.
When they found out no such facility existed in the area, designing and building one was the next logical step. The group bought 2.8 acres of vacant land on 12th Street, paying $420,000, and started creating a site plan. They chose the location because of its proximity to the 17th Street Bridge, making it a quick hop for island collectors they saw as their primary market.
And car guys did come
"There were a couple of Porsche guys and a guy with older American muscle cars who bought at Autohaus," says Schulke, who owned a '64 Corvette, a '78 Corvette, a '65 Catalina and a BMW sports car at the time.
"We have sold units to three guys who own numerous dealerships all over the country that have homes here. They have car collections in warehouses in New York or Michigan and a couple of cars here that they don't want left out in the salt air."
Lombardi says some buyers "really decked their units out. I remember one guy that had hardwood floors on the first and second levels and a wine bar."
But other buyers came too, looking for RV, boat and general storage.
The 37 units grouped in six buildings ranged in size from 800 to 1,320 square feet and sold out quickly.
"We had 16 presales, 27 when we got our CO, and sold the rest in three or four months," says Schulke.
Lombardi and Schulke realized they'd found an underserved niche in the market and started scouting around for a place to develop a second location.
"It took a while," says Schulke, "because it had to be zoned industrial but in an area where we would want to build that would be convenient for buyers."
Eventually they found the .78-acre tract on U.S. 1, which they bought for $225,000, closing in November. With Schulke handling engineering and Lombardi doing the building, they broke ground in March and expect to complete the project in October.
Called Indian River Motorhaus, the project consists of 17 units priced at $179,900. All the units – built from 7 ½ -inch thick, steel-reinforced concrete walls poured, cured and bolted together onsite – are 22 feet by 36 feet with 20-foot-high ceilings and 14-foot-high garage doors that can fit as many as five cars if a lift is installed or a 26-foot boat and a couple of cars, among many possible combos.
"We were sold out by April, when the foundation was being poured," says Schulke. "We could sell more right now if we had them."
Key measures of success in real estate development are how fast a project is completed, how fast it sells out, and how much the land costs compared to the value of the finished product. In this case, the builder and the engineer appear to have hit it out of the park, with a 6-month sales period, 8-month build time and $3 million sellout on a piece of land they picked up for a small fraction of that amount.
"It is a long, narrow strip – 410 along the highway but only about 110 deep – that would not work for many uses but that was perfect for us," Schulke says, commenting on the deal the partners got.
Spurred by the success of Motorhaus, the partners immediately started looking for a place to create a third version of their hot commodity, zeroing in on a 6.4-acre parcel at 2400 41st St., a couple of blocks from their project on U.S. 1
They put the land under contract in late June and their conceptual site plan got a good reception at the county building department.
"They liked the layout," Schulke says. "There was hardly anything we had to change."
The partners are wrapping up due diligence now and plan to close on the property in September and start taking reservations for Indian River Motorhaus 2 by the end of the year.
"We will offer four models," says Lombardi, "including units 40 feet, 48 feet and 55 feet deep. We lost a couple of sales at the current project to people who had bigger RVs or boats."
Prices will range from $179,900 for "starter" units that have 12-foot ceilings to $299,000 for the largest units, not including custom features.
"We set up units that are ready to fully customize," says Schulke. "We put in a 150-amp panel, pre-plumb for a bathroom, run conduits for ATT Internet. We make it very easy for the buyer to add a mezzanine level or other features."
"We can do the work for them after closing or they can bring their own contractor," says Lombardi.
The units come with automatic ventilation, special floor drains for motor oil, and monitored fire and carbon dioxide sensors that make them perfect for "car guys."
But Lombardi says the partners are building for a wider swath of buyers than when they started, including people who have mainland homes with one- or two-car garages and need general storage space, or space for vehicles and other items.
"A big percentage of our buyers have come from the island, but we have sold to people all over – in Grand Harbor, Indian River Club and out west."
One of the chief selling points of the Motorhaus projects is the quality of construction.
With solid concrete and steel walls and steel roof systems, the units are sturdy enough to serve as hurricane shelters, providing a comfortable, secure, air-conditioned space with running water and electricity to ride out the storm.
"People like that," Lombardi says. "We provide a manual transfer switch to hook up the buyer's generator to power the unit."
In Motorhaus 2, which will have 100 units in 11 buildings and be built in phases, some buildings will include backup generators large enough to power the entire structure, so owners won't have to hook up their own portable power units if FPL falters.
There's also an economic advantage to owning storage space instead of renting it at what Schulke calls "astronomically high" per-square-foot lease rates in metal mini-storage buildings that don't have bathrooms, wine bars or mezzanine levels.
The unit becomes an asset on the balance sheet and will likely appreciate in value based on what has happened at the Vero Autohaus.
"We have had some resales in the first project," says Lombardi. "A unit we sold in 2019 for $180,000 resold for $270,000, and one we sold for $250,000 resold for $310,000.
"We think that shows the value of ownership and the strong demand for storage space."