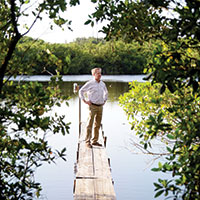 PBS features Indian River Land Trust in episode of 'Changing Seas'
STORY BY STEVEN M. THOMAS (Week of August 5, 2021)
Photo: Land Trust executive director Ken Grudens at Bee Gum Point.

People around the country will learn about the Indian River Land Trust in November when the latest episode of the PBS series "Changing Seas" airs nationwide.
"Habitats: The Key to Florida's Fisheries" – episode 1304 of the long-running, Emmy-winning series – reports on research being done at Land Trust properties along the lagoon aimed at protecting gamefish, especially snook and tarpon.
Produced by South Florida PBS station WXEL-TV, the beautifully filmed 26-minute show aired on WXEL and sister station WPBT in July, where it was seen by more than 14,500 households, according to Jeneissy Azcuy, vice president of marketing and communications at South Florida PBS.
Azcuy says the episode will be seen "pretty much everywhere in the country," beginning in November.
"We've had a lot of positive feedback already," says Land Trust Executive Director Ken Grudens, who appears in the episode alongside research scientists and state wildlife officials.
"We included a link in our latest e-news update to our constituents and I think it helps people understand that, besides acquiring land to protect the lagoon shoreline and wildlife habitat, we're also always trying to improve the land we own – removing exotic species in upland tracts so native plants can flourish and working to improve wetlands to benefit water quality and the fisheries."
Grudens says he first heard from PBS in January and that the production crew arrived in Vero in February for a week of filming at the Land Trust's Bee Gum Point property and other locations.
"I spent an afternoon with them out at Bee Gum Point," being interviewed and filmed, Grudens added.
"Habitats: The Key to Florida's Fisheries" also includes segments filmed in and around mangrove wetlands on the west coast of Florida where related fisheries research is being conducted by FWC – the Florida Fish and Wildlife Conservation Commission – and other researchers.
Directed by Florida Tech Professor Emeritus Dr. Jon Shenker and Bonefish & Tarpon Trust scientific and conservation director Dr. Aaron Adams, with field work conducted by graduate students from Harbor Branch Oceanographic Institute, the research here focuses on how popular game fish such as snook and tarpon use the manmade mosquito impounds along the lagoon owned by the Indian River Land Trust and managed by the Indian River County Mosquito Control District.
Marine scientists have known for decades that mangrove marshes along the lagoon are not just breeding grounds for mosquitoes, but also function as important nursery habitat for juvenile fish.
So, along with diking and flooding mud flats to prevent mosquitoes from breeding from April to August, local mosquito control districts have installed culvert pipes with gates to connect the impoundments with the main lagoon.
They usually open the gates from fall through spring when the insects are not reproducing so young fish can move freely into sheltered water where they are safer from predators, and then move back out as they mature.
But prior research at Bee Gum Point found that the juvenile fish do not swim back to the lagoon during the period when the gates are open.
By implanting electronic tags in impounded snook and tarpon and placing receivers near the culverts, Shenker and other scientists discovered that the fish clustered around the outflows when they are closed in summer.
Based on that, the Mosquito Control District opened the culverts for a week during the summer before closing them again and reflooding the marshes.
"In the first 24 hours after the culverts were opened, the fish flooded out," Shenker says in the PBS show. "They are waiting till they are genetically programmed to go into bigger bodies of water and join the adult population."
Current research is aimed at duplicating that result in multiple locations so that the practice of opening the impounds for brief periods in summer to benefit fish populations while still controlling mosquitoes becomes standard policy.
"The aim of the current study is to show that this management tactic applied across Indian River Land Trust's approximately 800 acres of mosquito impoundments will boost the nursery production of these important game fish," Land Trust Director of Land Stewardship Dave Fuss told Vero Beach 32963 earlier this year.
"Not only are these fish important for their own sake, but as an indicator species – think about the canary in the mine – that will reveal the larger health of the lagoon. If successful, this approach could be adopted across thousands of acres of mosquito impoundments which would have a tremendous impact on the fish, the lagoon, and beyond."