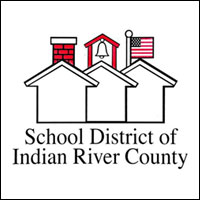 Schools reopen with masks still optional – for now
STORY BY GEORGE ANDREASSI (Week of August 12, 2021)

As school districts across Florida reinstituted mandatory facemask policies in response to skyrocketing COVID-19 cases, Indian River County School District stuck by its optional facemask policy for the reopening of schools Tuesday.
But Schools Superintendent David Moore said Monday he might ask the School Board at its Aug. 24 meeting to reimpose a "mandatory" facemask policy if the pandemic continues to worsen.
"We may want to make it a mandatory mask-wearing program," Moore said during a Facebook Live presentation. "Those recommendations will be based on the reality of how we did during the first two weeks of school."
Currently, the school district "highly recommends" students and educators wear facemasks indoors when they cannot maintain 3 feet of space from others, Moore said.
For those who do not want to follow the recommendation, Moore said the school district will allow parents to send their children to school without a mask, but only if they complete an opt-out form and submit it to the district by the end of the week.
"There are parents who are concerned we should not be wearing masks in schools, that it is the parents' right to choose," Moore said. "We understand the political divide, but we also understand the challenge of educating in the midst of a pandemic."
Four parents filed an unsuccessful lawsuit against the school district challenging the mandatory facemask policy instituted for the 2020-2021 school year and other parents showed up at School Board meetings to protest the policy.
More recently, Gov. Ron DeSantis threatened to withhold state funding from school districts that violate his ban on mandatory facemask policies, but U.S. Education Secretary Miguel Cardona last week questioned that strategy.
In addition, on Saturday the Palm Beach County School District joined those in Broward, Duval, Alachua and Leon counties in reinstituting mandatory facemasks in schools, despite the governor's orders.
"We as a system for the last three weeks have been saying, 'It is highly recommended that you wear a mask,'" Moore said. "[But] the executive order provides the opportunity for parents to have the right to opt out."
However, the school district will require visitors on campuses to wear facemasks, Moore said.
A total of 955 Indian River County residents were diagnosed with COVID-19 between July 30 and Aug. 5, Florida Department of Health records show.
That represented a 40-percent increase compared to the prior week and 17-fold jump since the recent low of 51 cases during the week of June 18 to June 24, state Health Department records show.
The positivity rate of people tested for the virus rose to 22.8 percent during the week of July 30 through Aug. 5, state Health Department records show. That represented a 22 percent increase in the past week and a six-fold rise since the low of 3.1 percent during the week of June 18 to June 24.
In addition, Cleveland Clinic Florida's hospitals on the Treasure Coast reported a total of 197 patients being treated for COVID-19 as of Sunday, compared to 46 on July 2, a three-fold increase.
Approximately 90 percent of the COVID-19 patients admitted to Cleveland Clinic Florida's hospitals had not been vaccinated against the virus, said spokesman Scott Samples.
As of Friday, 52 COVID-19 patients were still hospitalized at Cleveland Clinic Indian River, Samples said.
Virus trends in the county and public schools will be gauged during the next two weeks to determine whether to change the facemask policy, Moore said.
"It may be we continue with the opt-out ... if we are able to manage and that program is working well," Moore said. "Or, God willing, the cases go down and we can make a recommendation to move to masks being strictly optional."
The third option would be to make facemasks mandatory.
However it shakes out, facemasks will not be allowed to create conflicts in the schools, Moore said.
"Expectations will be taught that negative commentary or treatment of any individuals related to their face covering choice will not be tolerated," Moore said.