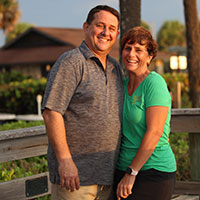 Seaside Grill, Jaycee Park icon, decides 30 is enough
STORY BY SAMANTHA ROHLFING BAITA (Week of August 19, 2021)
Photo: Dan and Rose Culumber stand in front of their restaurant, Seaside Grill, located at Jaycee Park off Ocean Drive. The two have been at the grill for the past 30 years.

The Seaside Grill, a Jaycee Park icon for almost three decades, will see its current owners serve breakfasts and lunches to regulars and tourists for the last time next May.
The restaurant is not closing because of COVID.
"Eighteen hours a day, seven days a week for 30 years is enough," said Dan Culumber, who along with wife Rose has operated the business since April 1992.
While it is possible someone else may take over the facility, which is leased from the City of Vero Beach, a Seaside Grill under ownership of someone other than the Culumbers simply won't be the same.
Dan and Rose Culumber met while working at a Burger King in Chicago and moved to Vero Beach to be near Dan's parents Rudy and Mary Culumber, shortly before the city invited bids to lease a snack bar then known as the Seaburger in 1991. Dan's father made a successful bid, and the lease was assigned to Jaycee Park Seaside Grill, Inc.
A fat scrapbook the Culumbers assembled over the years records the project which transformed the Seaburger into a restaurant, seating 135 inside and on patio. At first, Culumber said, the Seaside Grill served breakfast, lunch and dinner, but soon dropped dinner, concentrating on the robust morning and midday traffic.
"Customers love to come for breakfast and the sunrise. On Sunday, during season, every seat's taken and there's a line down the steps to the sand, sometimes with a 3-hour wait," he said.
At one of the patio's round, concrete tables, the Culumbers reminisced about the last three decades, as waves lapped the shore a few dozen a few yards away, the conversation continually punctuated by Dan waving and hollering greetings or goodbyes to customers.
As Dan and Rose juggled 24/7 restaurant responsibilities and a growing family, grandparents Rudy and Mary happily volunteered to babysit their sons Nick and Dan. On occasion, Culumber recalled, "Rose'd be working the front of the house, and I'd be in back cooking, with Nicholas. I'd set him on a counter and give him some bread to keep him occupied.
"Back then, I had to drive down to Dania to get the Vienna Beef we used. I'd go down after work, sleep in the truck, pick up the food and drive back up to get to the restaurant by 5 a.m."
In the three decades since the original lease was signed, the Culumbers have seen a lot of changes – in the town and the business – primarily, says Dan Culumber, "more people. The population has grown. And people seem to be coming down earlier, staying longer.
"In August and September, they used to roll up the streets at night," he says. "There were only about seven restaurants that did dinner on the beach. Now there are 15 or more, the slices of the pie keep getting smaller, and there are many more people in the service industry."
With the restaurant's transformation from a snack bar to a real restaurant, there came, says Culumber, "a whole different clientele": island residents, shopkeepers, office and government workers, visitors, John's Island residents, many of whom have become regulars – and good friends.
"Our kids know each other, they grew up here. We go out together. And our staff, most of them have worked here for years. How long have you been here, Shannon?" he asked a server who was en route to a couple of coffee refills. "Seven years! I love these people," she said of her bosses.
"My cook, Alex Jacobs, started working here when he was 15," Culumber said. "Now he's 43."
Rose Culumber added, "I remember when Alex's wife Amy was pregnant. Now their son works for us."
The Culumbers consider their employees and guests family, comparing the warm and welcoming seaside restaurant to Cheers, where "everybody knows your name."
Some regulars even come in to help decorate for Christmas and Easter. As word of the Culumbers' decision to retire gets around, more and more customers and staff are voicing dismay.
After what will likely be a big farewell bash, what will Dan Culumber do post-Seaside Grill? When he won't have to deal with emergencies like the time when a French fry got stuck in the nozzle of the fryer?
Many friends (and Rose) think there's a chance he'll get a little stir crazy, gearing down from overdrive to zero after 30 years. Perhaps, Culumber acknowledges. However, "I'm not going to open up another restaurant. I worked seven days a week for 30 years. All I do is work. I haven't had a vacation in 10 years. I'm ready for a permanent vacation.
"But, first," he smiled, "I'm going to clean the garage."