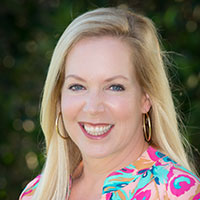 Tracey Zudans runs for Vero City Council
STORY BY LISA ZAHNER (Week of August 26, 2021)

It's been nearly two years since the Vero Beach City Council has had someone named Zudans on the dais, but Tracey Zudans is hoping to change that in November.
Former mayor Val Zudans' tenure was often fraught with controversy, but at least people knew exactly where he stood on issues. Zudans frequently expressed gratitude to wife Tracey for supporting him in his efforts, and painted her as his rock –  the very solid port to his somewhat stormy style of public service.
Tracey Zudans hopes to build upon the credibility she earned during her nearly four years of service on the Indian River Hospital District Board of Trustees.
A fiscal conservative recognized for her efforts by the Taxpayers Association of Indian River County, Zudans is a mother of four, a University of Florida graduate, an active volunteer and philanthropist.
She resigned from the hospital board effective Jan. 31, citing family reasons. After being appointed by then-Gov. Rick Scott to fill a vacancy and winning a term on her own, Zudans proved to be a strong leader who is not afraid to tackle tough, long-standing issues.
"I'm committed to Vero Beach, and I believe I'm well prepared to serve on the City Council," said candidate Tracey Zudans. "I'm proud of my service as a Hospital District trustee, especially in returning robust healthcare in the Gifford community. As a city council member, I will always put the people of Vero Beach first. Our citizens need elected officials who will protect their freedoms and be good stewards of their taxpayer dollars."
Zudans joins Utilities Commission member and management consultant Joe Cotugno, and Vero Young Republicans founder Taylor Dingle, in the nonpartisan race for two council seats currently held by Councilman Dick Winger and Vice Mayor Rey Neville, both Central Beach residents. Cotugno, who has also served on the Three Corners Steering Committee working on plans for the development of the city's riverfront utility parcels, lost out to Honey Minuse in 2020. Mayor Robbie Brackett made it clear that Cotugno was his first choice to replace Councilman Joe Graves when he retired in the spring.
Winger, who was appointed this spring to serve the remaining seven months of Graves' term, confirmed during last week's city council meeting that he will not run in November. Earlier this month Vice Mayor Rey Neville said he was still consulting family members and deciding.
Any Vero resident who has lived in the city for at least 12 months and who is thinking of running has until noon Sept. 3 to file paperwork and take the candidate oath before the three-week qualifying period ends, according to City Clerk Tammy Vock.