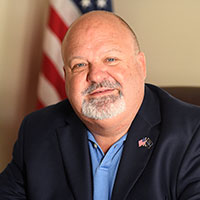 Brackett enters race for seat in Florida House
STORY BY RAY MCNULTY (Week of December 2, 2021)
Photo: Vero Beach Mayor Robbie Brackett.

Vero Beach Mayor Robbie Brackett is running for the Florida House of Representatives seat currently held by local attorney Erin Grall, who he said will seek to represent a newly created district in the state Senate.
If approved, the Senate's new District 25 would include all of Indian River County and all or most of St. Lucie County, Okeechobee and Highlands counties.
State Senator Debbie Mayfield, meanwhile, said she will seek to stay in the Senate representing a newly drawn District 17 that doesn't include Indian River County, which she has represented since 2016.
The Florida Constitution requires that legislators approve redistricting plans for the state's House, Senate and congressional seats during the first regular session of the second year following the census – which means the process should be completed by mid-March.
The new districts will be in effect for next year's elections.
"Politics is not something I planned to get into, so this was never really a goal of mine," Brackett said. "I ran for the City Council because I wanted to give something back to the community.
"About a year ago, people began talking to me about running in 2024, when Erin would've reached her term limit, but I told them that was too far away to think about," he continued. "And if you had asked me two weeks ago, I'd have told you no. It wasn't on my radar.
"But now, with the redistricting, it's something that has become available," he added. "I've been getting a lot of encouragement to do this, so I talked with my family and decided last week to go for it."
Brackett, who was elected to the City Council in 2019 and is serving his second term as mayor, said he planned to file the necessary paperwork with the Florida Division of Elections in Tallahassee this week and formally announce his candidacy.
He said his newborn campaign already has the support of every constitutional officer in the county – except, of course, for Supervisor of Elections Leslie Swan, who is prohibited from endorsing candidates – as well as 19th Judicial Circuit State Attorney Tom Bakkedahl and Public Defender Diamond Litty.
He also has Grall's backing.
"Before I made the decision, I sat down with Erin and we discussed our plans, and we talked again (Monday) morning while she was driving back to Tallahassee," Brackett said.
"I'm not running against Erin Grall," he added with emphasis. "I think she's doing a fine job. I'm thrilled to have her support."
Grall, who was elected to the Florida House in 2016, did not respond to phone messages left on her cellphone.
Brackett, 58, is a managing partner in the family-owned Edge Information Management, which conducts pre-employment background checks. He also uses his real-estate license to work with the Brackett Family Limited Partnership, a property management business.
If he's elected to state office, Brackett said he has enough flexibility in his schedule to devote the time necessary to his job in Tallahassee. Similarly, he doesn't foresee his campaign infringing on his duties as mayor.
In fact, Brackett said he believes his presence in the state Capitol could benefit Vero Beach and Indian River County when they need assistance from the Legislature.
He said he's prepared to spend time away from his family when necessary and that he won't mind the commute.
"Tallahassee is where the business is done," Brackett said. "Fortunately, most of it is done during the first quarter of the year, so I don't anticipate any problems. Besides, my family supports this."
The newly drawn district Mayfield would represent, if she is re-elected, stretches north from Brevard-Indian River county line to the Titusville area – which is convenient.
Mayfield, who has served in the Legislature since 2008, moved to Brevard County in 2016, after she married Robert Scaringe, a wildly successful businessman with deep roots in the Melbourne area.
She was previously married to Vero Beach's Stan Mayfield, a member of the Florida House from 2000 until 2008, when he reached his term limit and was succeeded by his wife. He died in September 2008 at age 52 after a yearlong battle with cancer.
"Between Stan and I, we served the people of Indian River County for more than 20 years, so I have a special connection there," Mayfield said. "Just because the district lines have been redrawn doesn't mean I won't care about those constituents."
If she is re-elected to the state Senate, Mayfield said she would consider a future run for longtime U.S. Congressman Bill Posey's seat – but only after he decides to step aside.
"At some point, yes, that's a role I'd have an interest in," Mayfield said. "But I've got to get re-elected first."