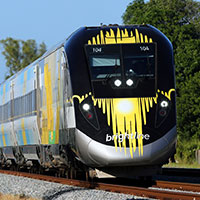 Brightline ramps up passenger rail construction in south Vero
STORY BY GEORGE ANDREASSI (Week of December 30, 2021)

Brightline ramped up construction along the Florida East Coast Railway tracks in South Vero and mobilized a massive crane at the Main Relief Canal near Vero Beach Municipal Airport in anticipation of completing its $2.7 billion expansion from South Florida to Orlando in late 2022.
Brightline contractors recently placed a Terex crane alongside the FECR tracks north of Aviation Boulevard for the construction of a new concrete bridge just west of the existing Main Relief Canal bridge.
Brightline expects the project to cost $1 million and take six months to complete. Construction activity, including pile-driving, will be conducted from 7 a.m. to 7 p.m. seven days a week.
Brightline contractors HSR Constructors and Rail Pros also expanded the railroad bed from the U.S. 1 overpass at the county line to Highland Drive in recent weeks using bulldozers, graders and rollers. In addition, Brightline contractors started construction on the expansion of railroad bed between Highland Drive and Oslo Road.
But Brightline has done relatively little preparatory work along the railroad tracks from Oslo Road to Aviation Boulevard, including downtown Vero Beach.
"We have no update from Brightline in regards to their construction schedule or developing a train station in Vero Beach," Vero Beach Public Works Director Matthew Mitts said just before Christmas.
Indian River County, Vero Beach and Brightline officials have been working through the details of the installation of an extra $33 million worth of safety initiatives at the county's 32 railroad crossings under the settlement of long-running legal disputes between the county and the passenger train company in June.