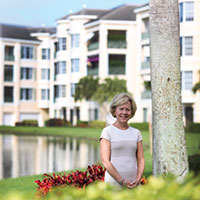 Condo prices latest to catch fire in island's hot realty market
STORY BY STEVEN M. THOMAS (Week of December 23, 2021)
Photo: Sally Daley, broker at Daley and Company Real Estate.

Island condo prices jumped 40 percent in past year, with new luxury construction, large house-like condos, and properties with water views leading the ascent.
As the pandemic migration from urban areas into Vero Beach continues, condos have become hot commodities for buyers who can't find a house that suits them in the tight 32963 market and decide to buy a condo – either as a permanent residence, or as what broker Sally Daley calls "a placeholder property," a place to live and gain equity in a rising market while continuing to look for a dream home.
And then there is the basic fact that even as they rise in price, condos are still less expensive than houses. According to data provided by Daley, the median list price of a condo or townhome in 32963 in mid-December was $872,500, while the median asking price for a single-family home was more than double that at $1,949,000.
"I first noticed something was happening about a year ago when a condo in Somerset Bay sold for $1.1 million," said Daley, broker at Daley and Company Real Estate. "That has been a $700,000 to $800,000 community forever, so it caught my eye, and it has continued.
"In 2019, I listed and sold a big, three-bedroom unit at 9031 Somerset Bay for $842,500, which was the high-water sale in there for the next year.
"I just listed the same property again for $1,375,000 and sold it in 12 days! The same unit. And there's a top-floor unit at Somerset currently listed for $1.5 million," Daley said.
"It is very interesting," said Michael Thorpe, broker associate at ONE Sotheby's. "The last four-bedroom condo that closed at the Carlton went for $2.2 million in June. But I just put the four-bedroom at 300 Beachview Dr. 3N under contract for $3.2 million."
That is a nearly 50-percent increase in price for an almost identical apartment in the same development in just six months. The unit Thorpe is selling is one floor higher, but both condos are on the north end of their buildings, and both have four bedrooms, four-and-a-half baths and 4,372 square feet of living space, according to public records.
"I have had a number of clients who said they would never consider a condo who now are looking at them as a viable option," said Daley. "It becomes a function of supply and demand."
"Some buyers are opening up their perspectives," agreed Thorpe. "If you can't find a house that makes sense, you can certainly make a case for large oceanfront and riverfront condos as an alternative to single-family."
"If you can get 3,000 square feet with house-like spaces, three bedrooms and an air-conditioned, climate-controlled garage for $1.3 million, why not?" Daley said. "Single-family would be much more – if you could find it."
The limiting factor with that proposition is there aren't hundreds of big, house-like condos on the island. But other categories of condos also are attracting new buyers and they are also going up in price.
The median sales price for older, mid-island condos with ocean views – like those opposite the Conn Beach boardwalk – has shot up during the pandemic. The median sales price over the past six months was $803,000, up from $520,000 during the prior year, a huge percentage increase in value.
And those figures don't factor in the sale of new, luxury, beachfront condos like those at Blue at 8050, which are selling rapidly at prices ranging from $1.7 million to $3.7 million.
The mid-island condos are smaller than those at Carlton, but they share a gold-plated amenity with that development that few single-family houses can equal – sparkling ocean views that get wider and more spectacular the higher up in the building you go.
"Units at the Gables are small, but it has a terrific location and views," Daley said.
"I did an analysis of a two-bedroom, 1,100-square-foot unit that sold there a year ago for $700,000. It's value according to comps is now close to $900,000 and the owner wants $1 million."
Smaller condos can also appeal to "placeholder" buyers.
"My clients see projections for continued price appreciation in our market for the next few years," said Daley.
"Rather than throwing away money on rent, they are effectively buying their rental to take advantage of the runway still ahead of us and gain equity while they are searching for or building the house they want."
"I have heard clients use that phrase, placeholder," said Thorpe. "They figure that when they move on, they will have made money."
Daley says the price surge is less pronounced for dry-lot, non-view, "shoebox" condos in some large island complexes. Those are not attracting as many buyers or going up as fast as condos on the ocean and river.
Nevertheless, the island-wide average sales price – counting all sold units – rose from $504,070 in November 2020 to $710,000 this past November, a 40 percent increase in value.
Prices per square foot jumped even more dramatically during the same period.
The rise in prices comes as inventory and days on market decline, with the number of condos for sale in 32963 dropping from nearly 300 in January to just 31 as of last week.
"As move-in ready, single-family homes have hit record-high prices – and record-low availabilities – many buyers are turning to their cheaper, oft-overlooked cousins: condominiums and townhouses," according to Realtor.com, describing a nationwide phenomenon. "Sales of these units have exploded over the past year as people who could work from anywhere moved across the country or scooped up a second home to enjoy on vacations near the beach or the ski slopes."
Six of the top 10 markets where condo prices have risen most are coastal cities in Florida, and Vero is along for the ride – both on the island and the mainland.
"I put three mainland condos under contract last week," ONE Sotheby's agent Tara Layne told Vero Beach 32963 earlier this month."I had an open house yesterday at another condo and already have three offers."
The pandemic surge in condo sales and prices lagged the overall market, according to realtor.com and island brokers.
When the pandemic first hit, condo sales fell further and faster than single-family home sales and did not experience the same almost immediate rebound as houses.
People fearing infection were leery about living in multifamily properties and there were still plenty of houses to buy.
Even after condo prices started to rise, the catastrophic Surfside condo collapse in Miami Beach in June cast another chill on the market.
"For a while there, I had people wanting to see building plans when they were considering a condo purchase," said Layne. "But I haven't heard that recently."
Instead, the overall market momentum has swept up condos along with single-family homes and land, pushing all types of real estate higher, with condo sales and prices rising faster than single-family in 2021.
Daley said the question now is whether the Vero condo market will stay red hot with prices much higher than they were a year ago.
"Are condos still going to be a viable alternative with these new prices?" Daley asked.
"I would prognosticate and say yes because houses keep going up, too. As both options increase in price apace, the delta that makes condos attractive to many buyers will remain. It is all about the delta, even if the bar is higher for both."