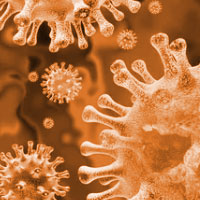 Covid-19 reappears at Vero Beach High, Treasure Coast Elementary
STORY BY GEORGE ANDREASSI (Week of December 2, 2021)

COVID-19 returned to the county's public schools last week as two students at Vero Beach High and one at Treasure Coast Elementary tested positive for the virus.
The three new COVID-19 cases were the first in the public schools since Nov. 4, school district records show.
No new COVID-19 cases have been reported since the three students tested positive last on Nov. 22, according to the school district's COVID Dashboard at press time Monday.
"We are not concerned at this time, however, will remain vigilant and prepared should cases rise in the future," school district spokeswoman Cristen Maddux said Monday.
The two cases at Vero Beach High were not enough to trigger additional health and safety precautions, Maddux said.
"At this time, masks are optional across our district," Maddux said. "Cases are very low in our district and our county."
The one-day uptick brought the number of student cases to 1,125 since the school year started Aug. 10, school district records show. A total of 210 employees have also tested positive, but none since Oct. 20.