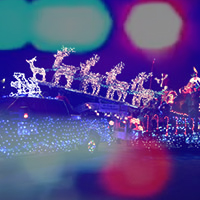 Driver charged with DUI after striking two seniors leaving Christmas parade
STORY BY LISA ZAHNER (Week of December 9, 2021)

Two island residents in their 90s attending the Ocean Drive Christmas parade were rushed to Lawnwood Medical Center after being struck by a car operated by a 72-year-old island resident allegedly driving while intoxicated, according to Vero Beach police.
The parade was breaking up, spectators were heading to their vehicles or to nearby restaurants, when Susan Harvey – driving away from the Ocean Grill where she'd just eaten dinner and, admittedly, enjoyed two Cosmopolitan cocktails – struck the two seniors, according to police.
Master Officer Darrell Rivers, who visited the crash victims at Lawnwood, said on Monday the two island residents were doing well and were hopeful that they might be released from the hospital on Wednesday. Their names were being kept private in accordance with Marsy's  Law, Rivers said.
Rivers confirmed reports the driver of the car that struck the two was prevented from leaving the crash scene near 3400 Ocean Drive by people attending the parade.
"Officer Hector Hurtado was off-duty when the crash occurred and was in the area with his family when he saw and heard the commotion. Officer Hurtado ran towards the commotion and assisted in stopping the driver."
The first officer to interview Harvey and place her in his patrol car reported smelling alcohol on her breath and noticing her speech was slightly slurred, so he called in Officer James Ooley to conduct a DUI investigation.
The report filed by Ooley said the driver, after being read her Miranda rights, told him "she did not know she had struck the pedestrians with her vehicle until she was told."
Before asking Harvey to perform tests that would require good mobility and balance, Ooley asked her about her level of physical activity to make sure his results would reflect her ability to complete the tasks.
"Yes, I play pickleball and racquetball and I go to the gym," the officer said Harvey responded.
Harvey's performance on the roadside tests earned her a ride to the Indian River County Jail, where she submitted to two breathalyzer tests. The police report says one test came back at .129 and the second test came back at .130 – both well over Florida's legal limit of .08. After her DUI arrest and a few hours in jail, Harvey posted $500 bond and was released early Sunday morning.
Vero Beach defense attorney Bobby Guttridge filed a notice of appearance on Monday to represent Harvey in the case, and the initial charge in the court system was a misdemeanor DUI.
Guttridge is well-known locally as the defense attorney who got former county administrator Joe Baird acquitted of DUI in 2009 using Baird's history of bouts with vertigo as a defense.
Harvey is scheduled to appear before Judge Robyn Stone for arraignment on Jan. 4. Court records show Harvey has no criminal history or prior DUIs in Indian River County, just one speeding ticket from 2013.
A full crash investigation report, including an inspection of any damage to the vehicle, was still pending at press time.