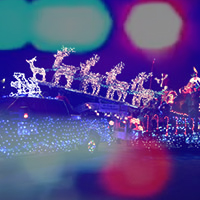 Driver in Vero Christmas Parade crash faces felony charge for leaving the scene
STORY BY LISA ZAHNER (Week of December 30, 2021)

North island resident Susan Harvey, arrested after running into two elderly island residents with her Lexus following the Vero Beach Oceanside Christmas Parade, is now facing a felony charge for leaving the scene of the crash.
Harvey, 72, was arrested again on Dec. 22 at the jail on the third-degree felony charge of leaving the scene of an accident with personal injury, as well as a first-degree misdemeanor driving under the influence with damage to property and/or persons. She was released less than an hour later after posting a $50,000 bond.
Initially, on the night of Dec. 4, Harvey was charged with DUI and released on $500 bail. Police say Harvey drove her 2022 Lexus into two pedestrians at the 3400 block of Ocean Drive as the crowd was breaking up after the parade and heading to their vehicles. The two elderly island residents, who are not named in court documents, were taken to Lawnwood Regional Medical Center in Fort Pierce and hospitalized overnight after the crash.
Police said Harvey told them she was unaware that she hit anyone with her car after leaving the Ocean Grill where she'd had dinner. An off-duty Vero Beach Police Officer attending the parade with his family prevented Harvey from driving away, police said.
Assistant State Attorney Felicia Holloman is handling the prosecution. Vero Beach criminal defense attorney Bobby Guttridge, who is representing Harvey, did not respond to a request for comment on the new felony charge.