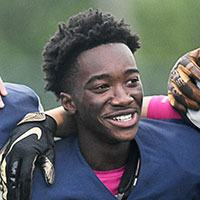 Father of drowned student sues St. Edward's School
STORY BY LISA ZAHNER (Week of December 16, 2021)
Photo of Bidensky Termidor.

The father of St. Edward's senior Bidensky Termidor, who died on April 30 participating in a pre-graduation, celebratory rite of passage – seniors jumping off a school dock into murky lagoon waters – thinks the school is at fault.
Termidor, 18, a star athlete and successful student headed to college on an academic scholarship, had never learned to swim, according to police reports. He might have been rescued when he went under, but another student began struggling and no one noticed Termidor's disappearance until it was too late.
The lawsuit alleging negligence and wrongful death, filed Dec. 7 by Bidensky Termidor's personal representative and father Faniel Termidor in Indian River County circuit court, claims that St. Ed's teachers and staff planned, announced and led the annual senior jump, and that parents were invited to come to watch.
"At approximately 2:15 p.m., after a school rally, the senior class proceeded to walk from the auditorium through the school grounds to the lake located at the back of the school," the complaint says. "While the seniors were walking from the auditorium, to the lake, the Defendant's teachers, staff and employees yelled, applauded and acknowledged they were going to the lake and that all were going to jump in."
Bidensky Termidor was among the last to jump. He disappeared underwater and was found, unresponsive. Paramedics were called and Termidor was pronounced dead at 3:50 p.m.  His cause of death was determined to be accidental drowning.
Attorney Kenneth Salk argues that St. Ed's failed to provide safety equipment, life jackets, lifeguards, paramedics or "anyone who knew CPR or other life saving techniques to oversee the seniors as they jumped in the lake or until they all were out of the water and safely on dry land."
"This wrongful death lawsuit is against Defendant St. Edward's School for the negligent supervision of Bidensky Termidor during school hours at an authorized school event, as well as failing to protect Bidensky Termidor from harm knowing full well he was a below average swimmer," the complaint says.
The complaint concludes by alleging that the school's actions that day "were the direct and proximate cause of the death of Bidensky Termidor."
The family claims damages sustained in the form of funeral and burial expenses, loss of future earnings of Bidensky, and lifelong mental pain and anguish suffered by all the survivors of the event.
The case has been assigned to Circuit Court Judge Janet Croom and the Termidor family has asked for a jury trial.