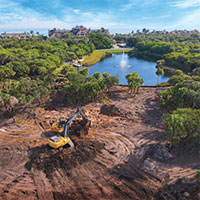 GHO Homes a new leader in island construction
STORY BY STEVEN M. THOMAS (Week of December 16, 2021)
Photo: GHO's new Seaglass Community just west of Disney.

GHO Homes, long known for its mainland subdivisions, is suddenly building more new houses than any other developer on the barrier island, with four communities totaling more than 150 new homes underway.
It all happened very quickly.
In May 2019, GHO president Bill Handler broke ground on his first two houses in the Orchid Cove subdivision at the eastern end of the Wabasso bridge.
Orchid Cove, which was plated prior to the 2008 housing crash, had languished under several names for a dozen years. Today, it's nearly sold out, with just two GHO homes remaining.
Starting prices that were between $565,000 and $715,000 in 2019 have shot up with the rest of island market, and Handler says he has sold houses in the community for more than $1 million.
Also in 2019, Handler bought a 26-acre tract of wooded land across from the Disney's Vero Beach Resort where he has secured site plan approval to build 73 homes.  His crews are now carefully clearing the land, working around stands of old oak trees that will be a signature feature of a community Handler is calling Seaglass.
In 2020, the enterprising builder picked up some lots in Sommer's Place, a small subdivision just north of the Summerplace neighborhood and half a mile north of Seaglass on A1A, where he is building a handful of homes.
Then in June 2021, Handler bought all the remaining single-family home lots in The Strand in Indian River Shores from mega-homebuilder Lennar, which had failed to gain traction in the subdivision. GHO has 39 finished lots in the development with seven sales so far and a model home going up. Here, prices start around $1.45 million and will go up to $2 million or more.
"On a good day, we have hundreds of men working at our island subdivisions," Handler told Vero Beach 32963, meaning a day with fair weather when material shortages don't have job sites shut down.
But how did it all happen? How did a company known for building houses west of town that sold a few years back for a couple hundred thousand dollars end up as the busiest builder on the island, selling million-dollar homes?
The short answer is abundant capital and decades worth of market savvy.
A 2018 merger with Green Brick Partners, a publicly-traded, Texas-based homebuilding and land development company, gave Handler access to a fat checkbook – and freedom from bank loans – while decades of experience acquiring land and building homes in Indian River County enabled him to deploy funds wisely on the island.
GHO was founded by Handler's father, Dan Handler, in 1983 and grew rapidly enough to attract the attention of national homebuilders looking to expand.
In a perfectly timed move, Handler, who had stepped into his father's shoes as company president, sold GHO to Woodside Homes in 2006, just before the housing market collapsed across the country. By 2008, an overextended Woodside was bankrupt, and in 2010, Handler bought his company and its assets back for a fraction of the 2006 sale price.
As the country recovered from the Great Recession and the housing market rebounded, Handler nurtured GHO's resurgence, which saw the company's home sales soar from 26 in 2012 to more than 240 in 2017.
That same year, Builder Magazine included GHO on its list of the nation's "Top 200 Builders" and named the company the "fastest growing builder" among those ranked No. 101 to 200 in homes sold.
Looking to keep the momentum going and open up more opportunities as land prices escalated, Handler sought out Green Brick, which acquired an 80 percent stake in GHO while keeping Handler on as company president to leverage his local knowledge.
Green Brick, which traded on Nasdaq up until this month when it moved to the New York Stock Exchange, has found success by betting on builders like Handler. The company's stock price shot up from $22 to $32 per share over the past year and Fortune Magazine named it one of the Top 20 fastest-growing U. S. companies in 2021.
Green Brick's "business model is founded on the belief that locally-focused land development is the starting point for builders' profitability and that both homebuilding and land development are best executed on a decentralized basis," according to the company's business plan.
"Zoning and land use are always locally controlled [and] ... to really succeed, a builder/developer needs a track record of creating award- winning neighborhoods and decades of building superior local, political and subcontractor relationships."
Handler has those virtues, and it was shortly after hooking up with Green Brick that he led his company across the bridge onto the island.
By that time, he had been talking "for many years" to a series of owners at the languishing Orchid Cove development, including Gainesville developer Peter Trematerra, who purchased the 31-acre, 57-home tract for $6 million in 2017.
With Green Brick's capital behind him, Handler made a deal with Trematerra to purchase 37 finished lots. Trematerra's company, Parkwood Distinctive Homes, held onto the other 20 lots, mostly riverfront, where it has built slightly larger more expensive homes that, like GHO's, are nearly sold out.
"It was an opportunity that developed after years of effort," Handler says.
In similar fashion, the Seaglass project came about "as the result of the right conversations with the right people" over a period of time, according to Handler.
Likewise, at The Strand, which was beeping on Handler's radar for years and where he bought three lots from a prior owner before Lennar even entered the picture.
"When Lennar decided to sell we were positioned to take advantage of the opportunity and it got bigger for us when we bought the rest of the lots.
"One thing leads to another as you get a feel for a particular area like the barrier island," says Handler. "You become more comfortable in the environment by doing deals and start looking around for more."
GHO homes are currently available on the island at Orchid Cove, Sommers Place and The Strand, but inventory is scarce and waiting times are long due to labor and material shortages that Handler says have caused GHO to slow the pace of new home sales dramatically while he concentrates of completing houses already under contract.
He expects to open sales in late 2022 at Seaglass, a development he is excited about.
"Seaglass is going to be amazing," he told Vero Beach 32963. "We have gone to extremes to preserve the mature trees in there, to maintain a canopy and an Old Florida feel. We moved the roads around to save trees and there are nine islands in the road, where it splits and goes around stands of oak trees.
"We have an arborist and walked the site for hours figuring out how to preserve the natural scene and we are continuing to do that. Many developers just mow things down, but we want to keep everything natural as possible."
Instead of being identified by numbers, trees that will be saved have names on signs attached to them – Bruce, Freddy and Jake, among others.
"The idea is to for workers to care about the trees and not damage them," says Handler. "From the treescape to the topography and angles of the lots, pretty much every lot in Seaglass will be special."
Handler says there's still land available on the island for more GHO subdivisions but that the remaining parcels are "tricky" due to complex land development requirements.
Meanwhile, he has nine subdivisions underway on the mainland in Indian River and St. Lucie counties, many close to sellout, and is developing the land for half a dozen more.
The biggest obstacles GHO faces in the midst of a historic housing market where the hunger for new construction is intense are the same ones keeping other builders up at night – dramatically higher prices for building materials, widespread material shortages and a lack of experienced hands and hammers.
"This is the most challenging time I have seen to develop land and build homes, for sure," Handler says. "Trying to get what we need to complete homes is like playing whack-a-mole. For a couple of weeks it was garage doors. We could not get garage doors to close houses to save our lives. We are begging and borrowing for concrete every day. Windows are a continuing problem. Appliances – forget about it! It is flooring. It is paint. It is everything!
"And then you have to factor in the labor problems. We have great relationships with many of our subcontractors for many, many years, but they have their own challenges. They have trouble getting guys and keeping them. Some just don't have enough. Some guys are leaving and earlier in the year a lot of people were getting sick. If you lose a good guy – or a crew – for two or three weeks, it slows things down.
A bogged-down permitting process and rising prices add to builders' difficulties.
"Prices are dramatically higher," Handler says. "I was looking at a price estimate the other day and I didn't recognize the numbers for concrete. It is bonkers. And it is every part of the house, every line item."
"I apologize to all of our customers because we are behind schedule in many cases. It is due to these issues, but that doesn't make it right.
"We have reduced sales to a small amount in all our subdivisions so we can get caught up on the backlog and honor our contracts and agreements with our customers. That is the top priority."
Ray McNulty contributed to this article.