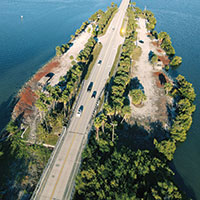 Happy New Year from FDOT
STORY BY SAMANTHA ROHLFING BAITA (Week of December 30, 2021)

The iconic, gnarled Australian Pines that for generations graced the little "parks" along the Wabasso Causeway, providing a serene, shady crossing of the Indian River Lagoon at this mid-island gateway to 32963, are now gone. Totally.
This highly visible outpost of the Aussies, it seems, had to be retaken, and the invaders had to be wiped out.
The Florida Department of Transportation, which controls the causeway and lagoon banks on either side, has plans for the area which include new landscaping, but some locals are dismayed at the startling removal of each and every Australian Pine.
As one unhappy resident, Cal Justice, lamented, "In one area, a dozen 40-plus-year-old trees were removed and now the area looks blighted, with no shade or beautiful trees.
"It was very disheartening to see tall, mature trees giving everyone a positive experience turned into a lunar landscape. On Saturdays, it was always busy with families and fisherman enjoying the water and shade.  Now no one is there," Justice said.
According to District 4 Communications Manager Guillermo Canedo,  FDOT's official statement on the project  says the Australian Pines were removed from the Wabasso Causeway "because they are invasive, non-native species detrimental to our Florida environment." The cost to complete the removal was approximately $112,000.
The areas where the Australian Pines were removed, according to the statement, "will be replanted with native trees and palms that are appropriate for the coastal environment."
Currently, Bann Williams of the FDOT District 4 Landscape Architecture Section, is preparing plans for a new landscape design and replanting, with work to start in March or April.
According to the Florida Fish and Wildlife Conservation Commission, Australian Pines are not pines/conifers, but rather tropical evergreens, which were introduced from Australia to Florida during the 1890s where they were widely planted to form windbreaks around canals, agricultural fields, roads and houses, a practical and useful decision at the time.
However, removing them is considered the practical decision in today's environment, as the Florida Fish and Wildlife website points out that these not-pine pines can cause environmental damage by displacing native beach plant communities which provide critical wildlife habitat for endangered plant and animal communities.
Australian pines can also encourage beach erosion by displacing deep-rooted vegetation; and their dense, shallow root systems can interfere with the ability of endangered American crocodiles and sea turtles to build coastal nests.
Whether those reasons apply to the causeway river banks as they do near the ocean shoreline could be open to question.
But in any case, for many residents, these ubiquitous invaders, still lining some roadways, or in small clusters on Wabasso's beach and (until recently) along the causeway's river banks, offered a nostalgic beauty that whispered of old Florida.