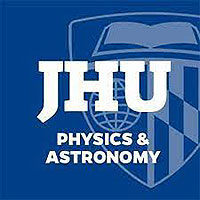 'Historic' support: Island resident Miller donates $50M more to Johns Hopkins
STORY BY RAY MCNULTY (Week of December 30, 2021)

Legendary investor and seasonal Orchid resident William H. "Bill" Miller III continued to embrace his philanthropic nature earlier this month, donating $50 million to support Johns Hopkins University's Department of Physics and Astronomy.
Miller's gift follows a $75 million donation to the university's philosophy department in January 2018.
His most recent commitment will fund 10 endowed professorships and 10 post-doctoral fellowships, as well as provide ongoing support for graduate research, laboratory equipment and other research-related infrastructure on the university's Baltimore-based campus.
As a result of Miller's largesse, the number of faculty positions in the department will grow from 33 to 46 over the next five years.
In a statement released by Johns Hopkins, University President Ron Daniels called Miller's support "historic," adding that the billionaire benefactor's most recent gift will propel one of the nation's most-storied physics departments to new heights – expanding research into emerging fields of study and attracting promising young scientists.
"Four years ago, Mr. Miller committed to what is believed to be the largest-ever gift to a university philosophy program, and now he has made an equally impressive gift to the study of physics and astronomy," Daniels said.
"We are endlessly grateful for his generosity that is driving our scholars to explore everything from the human condition to our understanding of the universe and our place in it."
Daniels said Miller's gift also inspired two anonymous donors to contribute another $25 million to the university's physics and astronomy department, which will soon bear his name.
John's Hopkins' philosophy department bestowed a similar honor after Miller's donation four years ago.
Though he made his fortune in the investment realm, Miller – in the university's statement – described physics as the "bedrock on which the other sciences rest," adding that he was "delighted to be able to make a gift to Johns Hopkins physics that will enable it to add new resources and continue to build on its distinguished history."
According to the university, Johns Hopkins' physics and astronomy department in 1876 became the first such department dedicated to research.
In 1981, NASA selected Johns Hopkins to be the site for the Space Telescope Science Institute. That designation helped the department develop into one of the nation's leading astronomy centers.
"Because of Mr. Miller's gift, Johns Hopkins will be an even more enticing place for young physics students and scholars to learn from our pre-eminent physicists," Timothy Heckman, professor and department chair, said in the statement.
"Our faculty, in turn, will have the privilege of preparing the next generation of brilliant physicists."
Miller, 71, splits his time between Orchid and Baltimore, where he sits on Johns Hopkins'  board of trustees and is an ardent fan of the NFL's Ravens and Major League Baseball's Orioles. He also collects books.
A North Carolina native, Miller's relationship with Johns Hopkins dates back to the 1970s, after he earned an economics degree and graduated with honors from Washington & Lee University, then served in the U.S. Army as a military intelligence officer.
His interest in philosophy piqued by one spring-semester, undergraduate class, Miller enrolled in a graduate program at Johns Hopkins after leaving the military and working part-time in accounting.
He was working on his doctorate before leaving to pursue a career in investment management.
In an interview with the Baltimore Sun in 2018, Miller said he completed the course work but "didn't write the dissertation." His love of philosophy, however, stayed with him, prompting his earlier gift to Johns Hopkins.
"I had taken exactly one philosophy course in college, but it led me to read a lot more philosophy when I was in the Army during the Vietnam War," Miller said in announcing his 2018 donation. "I attribute much of my business success to the analytical training and habits of mind that were developed when I was a graduate student at Johns Hopkins."
Miller, whose father worked as a terminal manager for a trucking company, went on to join Legg Mason, where he spent most of his career identifying under-valued companies and became famous for his unparalleled, 15-year streak of managing a fund that beat the returns on the Standard & Poor stock index – from 1991 to 2005.
He was also an early investor in Amazon, despite the skepticism of most Wall Street analysts.
Miller's career suffered a setback when he underestimated the severity of the 2008 global financial crisis, which, according to news reports, wiped out 90 percent of his net worth.
Never one to quit, Miller went back to work and built a second fortune, riding his investments in Amazon and Bitcoin to billionaire status.
He severed his ties with Legg Mason in 2016 and continues to serve as chairman and chief investment officer at Miller Value Partners, which he founded in 1999 in Baltimore.
Last month, Miller promised $50 million to the New Mexico-based Santa Fe Institute – the largest single donation in the 38-year history of the nonprofit theoretical-research center that studies the science of complex systems, from economies to ecosystems to the internet.
He is chairman emeritus of the institute's board of trustees, having served as chairman from 2005 to 2009.
"Bill Miller's continuing generosity and support over the years has been absolutely pivotal for SFI and, as a consequence, for promoting and sustaining the kind of science and scholarship that is playing an increasingly central role – not just across academia but in how we understand the messy world around us and address the enormous challenges we face," Geoffrey West, the institute's past president and a distinguished professor, said in statement.
"His latest gift has gone one extraordinary step further in ensuring long-term support of complexity science, transdisciplinary collaboration and addressing the really big questions," he added. "In a word: ensuring the support of the science for the 21st century."