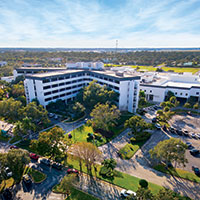 Hospital settles huge malpractice suit with family
STORY BY MICHELLE GENZ (Week of December 9, 2021)

On the eve of a scheduled all-day hearing, attorneys for Cleveland Clinic Indian River Hospital  and the family of a former patient apparently reached a settlement in what could have been the largest medical malpractice suit in the county's history.
Attorneys anticipated a possible jury award of $100 million in the case of a 42-year-old mother of five, Toshuua Hughes, who never awoke from anesthesia after a hysterectomy in June 2017. At a hearing in September to delay the trial until February due to COVID-19, hospital attorney June Hoffman said a $100 million award could "bankrupt" the hospital.
Explaining the absence of any participants at the Thursday, 9 a.m. hearing on Zoom, Circuit Judge Janet Croom said it was her understanding that a settlement had been reached, though paperwork for the agreement had not yet been filed.
The next day, Friday, the plaintiffs' attorneys, David Carter and Dane Ullian, filed a motion for approval of a settlement on behalf of Hughes' two minor children, as well as the appointment of a guardian ad litem. Hughes' three adult children and her husband of 20 years are also plaintiffs in the suit, originally filed in May 2018.
At the time of the incident, Indian River Medical Center had not yet merged with Cleveland Clinic, though consultants were beginning to put out feelers to more than 30 hospital systems. By the time the suit was filed in May 2018, the list had narrowed to one: Cleveland Clinic, and negotiations had begun on a final agreement. Cleveland Clinic Florida officially took over the local hospital on Jan. 1, 2019.
That left Cleveland Clinic to take over the legal defense of Indian River in the Hughes case and later, a separate case in federal court with Indian River's insurance company, Admiral. That suit, filed this past February, is to keep Admiral from having to cover the costs of court-imposed sanctions on the hospital for its chronic delays in producing evidence.
Cleveland Clinic in turn countersued, blaming the insurance company for wrongly advising the hospital in the local court. That case appears to be ongoing with the most recent hearing having taken place in late October.
Filings in the insurance company case proved illuminating to the plaintiffs in the Hughes case, laying out the hospital's strategy – of preemptively admitting liability in the hopes of reaching an agreement in arbitration. But the plaintiffs fought on, despite repeated stonewalling by the hospital on evidence production, enough to prompt the judge to lift Florida's medical malpractice caps, and allow the award of punitive damages by a jury.
Most damning perhaps were the results of a forensic IT expert who uncovered alterations in Toshuua Hughes' electronic medical records. Those changes included significantly shortening the time frame that Hughes went without oxygen as her surgery wrapped up and she was wheeled into the recovery room.
Plaintiffs' attorneys believe she may have gone six minutes or longer without oxygen. Records also showed a Code Blue alert was called, but a nurse's handwritten timeline showed that button was never pushed.
Another EHR anomaly is that a feature built into the software module for physicians' notes allowed for prior entries to be overwritten, with only the final version remaining after 30 days. With data from earlier versions never set up to be saved automatically to audit databases, any alterations to the record were not apparent outside of forensic analyses.
The Hughes incident was immediately recognized as catastrophic and a "potentially compensable event," as hospitals term incidents likely to generate a lawsuit. Yet a departmental peer review process that was initiated and generated the strongest signal of concern was never brought to the next level of scrutiny: a multidiscipline review, plaintiffs' attorneys said.
That process could have led to disciplinary action or changes to clinical procedure to prevent a recurrence of the injury. Instead, the internal investigation was quickly turned over to a California attorney, potentially providing cover as facts came to light, attorneys alleged in a deposition.
"I don't believe it would be appropriate for anything to preempt the peer review process," said former CEO Jeff Susi, deposed by plaintiffs' attorneys. "I don't know of any acceptable reason why the process was not completed."
Susi was six months away from retirement when the event occurred. He blamed the flurry of activity over the prospective merger for his failure to follow up on the interdisciplinary peer review that should have followed the departmental peer review. Carter said discovery has not revealed any notes taken in that lower-level review.
Electronic medical records including Hughes' vital signs from the day of the procedure were altered in multiple ways, the IT expert found, chiefly by the anesthesiologist, Dr. Donnie Konovsky, who admitted to the modifications.
Now living in the Seattle area, Konovsky was part of Anesthesia of Indian River, a large, independent group that at the time of Hughes' treatment was under contract with the hospital. Cleveland Clinic has since acquired the practice.
Though the hospital admitted liability for Hughes' injuries early on, Konovsky never did.
Konovsky was said to have reached a settlement with plaintiffs in October, though the agreement was never finalized. It will now become part of the larger settlement, should it go through.
Hughes, who once worked as a CNA in a nursing home, has remained in a neurological care center in Sarasota. Doctors describe her condition as a non-responsive wakefulness – a  persistent vegetative state, though her husband, Rodrick Phinizee Sr., frequently goes to visit.
Though she requires a feeding tube and a breathing tube in her throat, she managed to survive a severe case of COVID-19 last year. The neurological care center she requires is in Sarasota, three hours away from her children and her husband of more than two decades.
The amount of the settlement will almost certainly remain confidential, should it be approved.