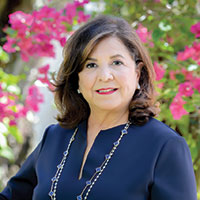 Matilde Sorensen, Vero's billion-dollar broker, sets record for career sales here
STORY BY STEVEN M. THOMAS (Week of December 2, 2021)
Photo of Matilde Sorensen.

Two hundred million here, $132 million there – after a while it all starts to add up. Just ask Matilde Sorensen, who was recognized this month for closing more than $1 billion in real estate sales in her career.
"She's actually done way over a billion, but the MLS records only go back to 2010," says Pat Mays, office manager and numbers-cruncher-in-chief at Dale Sorensen Real Estate's Cardinal Drive office.
Sorensen was inducted into Who's Who In Luxury Real Estate's Billionaire's Club on Nov. 18 after Mays submitted an MLS report and company records documenting more than $1 billion in sales.
Only 60 brokers have been admitted to the club since it was created in 2007 and Sorensen is joining an elite group that includes celebrity brokers like Mauricio Umansky, founder and CEO of The Agency in Beverly Hills, who appears frequently on "Million Dollar Listings Los Angeles."
No other Vero Beach broker has ever made it to this level.
"Achieving over $1 billion in real estate sales is an amazing accomplishment," says Kate Ledbetter, vice president of marketing at Who's Who In Luxury Real Estate, a global referral network with 125,000 top agents in 62 countries. "It takes true dedication to your clients to achieve this incredible milestone and we are honored to welcome Matilde into the Billionaires Club."
Sorensen has been the top-selling agent in Indian River County many times, including in 2020 when she sold $132 million, according to Real Trends. This year she has far surpassed that number, closing $184.5 million so far, and is on track to sell $200 million, according to Mays.
"I think I have enough sales pending to make it to $200 million," Sorensen told Vero Beach 32963 last week. "If I do, it will be the biggest thing I have ever done."
Sorensen's blockbuster numbers in 2020 and 2021, which helped propel her into the real estate stratosphere, come in the midst of the most intense market in modern times, as pandemic migration pushes home sales, home prices and brokerage numbers to record heights.
But her long-term success is due to hard work, market knowledge and a rare talent for deal-making, according to island agents and brokers who know her.
"Matilde and I entered the real estate business at about the same time nearly 40 years ago," says Buzz MacWilliam, owner and broker at Alex MacWilliam Inc. "We were both trying to learn sales and marketing as well as how to run a brokerage business and we talked often about our experiences and how to solve problems. She always took real estate very seriously, always wanting to learn more and work harder and faster."
"Her success is well deserved because she is an incredibly hard worker," says Cathy Curley, a top-selling agent at Dale Sorensen Real Estate. "She did not get lucky. She continues to put an extraordinary amount of time and energy into her business."
Case in point: Sorensen says she worked straight through the pandemic, continuing to make deals – and she hasn't taken a vacation in two years, other than a quick five-day trip to Maryland to visit friends.
"My business didn't really slow down," Sorensen says of the frightening early days of COVID-19. "Pat and I were here every day during the shutdown, me downstairs and her upstairs. We were the only ones in the office."
Sorensen's workday often extends until 3 a.m., according to Mays.
"It's true," Sorensen says. "But it is not work to me. Late at night is a time for me to think things through and be more creative. I love it."
Sorensen's daughter, Elizabeth Sorensen, a successful realtor at Dale Sorensen Real Estate, says her mother's "knowledge of the market, historically and currently, is invaluable to those looking to accomplish a sale or purchase.
"She is 100 percent committed to her customers, which translates into being available 24/7. Her family sees her work tirelessly for her customers, sometimes missing days off with family and friends."
"Matilde knows so much," Curley says. "She knows the people, history and properties of our town – built by who, sold to who, designed by who. She also listens, which is key in our business, and she is, in my opinion, the queen of making creative off-market deals happen."
Sorensen says she has seen a major shift in her clients' thinking since the pandemic began that is helping fuel the red-hot housing market.
"People value their families more now, I think, and they have realized that money is not so important, that you can have all the money in the world and if you have COVID and you die all that money is not going to help you," Sorensen says. "I think, all along, people had a lot of money that they were saving, I don't know for what, and all at once they said, 'I am going to live my life.'
"Those who are retired decided to spend their money and live the life they had been dreaming of, moving to Florida and living by the water, and those still working realized they can work anywhere and decided to move someplace that makes them happy."
Barreling into the island's busy winter season, Sorensen doesn't expect the market to slow down anytime soon.
"I just showed a house that went on the market at noon on Monday and had six offers by Tuesday morning," she says. "I'm just hoping they pick my client's offer!"
Sorensen says it is not money, primarily, but the satisfaction of completing transactions that drives her and keeps her enthusiastic and motivated after four decades in the real estate business. That and the people she meets and works with.
"That is what makes me feel good," she says, "helping people achieve their dreams. Absolutely. It is so nice. It makes my day. I love it. It is fun.
"Of course, it can be frustrating sometimes when deals don't come together, but I don't get down. It is so exciting to meet new people – such accomplished people you can learn so much from – and many of them become my friends. They are not just clients.
"I don't want to do a onetime deal with someone and then never see them again. My business is built on real, long-term relationships with people whose children's children come to me when they are looking for a home."
Sorensen and her husband, Dale Sorensen Sr., founded their brokerage in the 1978 in what she calls "a teeny, tiny office on Beachland."
It has since grown to be the largest and most successful brokerage based in Vero Beach with 12 locations in three counties – St. Lucie, Indian River and Brevard.
Last year the family-owned company sold more than a billion in real estate – a first for any island brokerage – including $700 million in Indian River County.
This year, the company, which is managed by Matilde's son Dale Sorensen Jr., had closed $1,333,093,000 in sales as of last week, on the way to what will almost certainly be a $1.5 billion year, including more than $1 billion in sales in Indian River County.
If you stop by her office on Cardinal Drive this week, you will find Sorensen making calls from a thick sheaf of spread sheets, tapping into her network to let people know how much their home is worth in the current market in hopes of getting them to list their property for sale if it makes personal and financial sense.
"Back when we started, Matilde made it very clear that she wanted to someday be the No. 1 agent and own the No. 1 real estate brokerage in Vero Beach," says MacWilliam. "She has accomplished that and so much more. No one works harder or is more deserving of this [Billionaires Club] honor than Matilde."