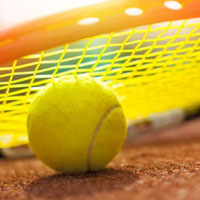 Professional tennis returns to Vero with Grand Harbor event
STORY BY RAY MCNULTY (Week of December 23, 2021)

Professional tennis is returning to Grand Harbor, where the $25,000 Vero Beach International Open Tennis Tournament – a United States Tennis Association Women's Pro Circuit event – is scheduled for Jan. 10-16.
The clay-court event is expected to attract up-and-coming players representing more than 30 countries and ranked from No. 150 to 300 in the world.
WTA Tour standouts Naomi Osaka, Laura Seigemund and Sofia Kenin played in the tournament here in 2014, when they were still building their reputations and the event was held at the Vero Beach Tennis Club.
The tournament returned to Vero Beach in January 2020, when it was played at Grand Harbor for the first time.
In fact, the women's tournament will be the first of two pro events to be played next year in Vero Beach, also home of the $15,000 Mardy Fish Children's Foundation Tennis Championships, a men's event held here since 1995.
"It's one of the very few cities in Florida to host a tournament of this caliber," Grand Harbor General Manager Michael Gibson said. "It's a world-class event and just the beginning of what we are working toward."
Grand Harbor Tennis Director Marco Osorio, a former ATP Tour player, said the tournament is the latest chapter in the renaissance members have enjoyed since purchasing the club from a subsidiary of Icahn Enterprises last year and taking control of its operations.
He said more than 50 members already had volunteered to assist with the tournament, and that members had purchased 80 percent of the box seats available.
"This is an exciting time for Grand Harbor, and we wanted to do something to build on that excitement, especially with tennis," Osorio said. "The members here are proud of their club, and this tournament will showcase the outstanding tennis facilities we have here."
The tournament will be complemented by numerous side events – a fashion show, art show, wine social and gala dinner – at the club.
Tickets may be purchased online at grandharbor.com.