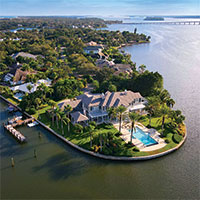 Riverfront home prices on island soar to record levels
STORY BY STEVEN M. THOMAS (Week of December 9, 2021)

Just as a rising tide lifts all boats, the recent dramatic surge in prices of oceanfront homes on the barrier island now seems to be lifting 32963 riverfront home prices to record heights as well.
Last Monday, partners Kay Brown and Luke Webb at Premier Estate Properties listed a 6,800-square-foot house that sits on a 1.3-acre lot in Little Harbour for $12,500,000.
That is more than any riverfront home has ever sold for in Indian River County, according to multiple island brokers and public records, making it seem like an ambitious asking price.
Or not.
By the end of the week the estate was under contract for more than the asking price, according to Brown.
Brown said interest in the property was intense, with multiple showings every day last week, leading up to Saturday when best-and-final offers were presented. Cindy O'Dare and Richard Boga, also of Premier, brought the successful buyer.
Then, on Friday, near the end of the lightning-fast Little Harbour sales process, another marquee riverfront estate was listed for $27 million, a mind-boggling price that would more than double the new riverfront record if a buyer writes a check for that amount.
"Riverfront homes are starting to show increases like we have seen on the ocean," says O'Dare, who, with Boga, last month closed the highest-priced oceanfront deal in Vero history. "We are finally catching up to South Florida and are now as high as Jupiter and some other markets."
Even pricey Palm Beach has only four riverfront homes listed for $27 million or more.
"We have seen significant increases in prices paid for waterfront property," said Marsha Sherry, resident broker at The Moorings Realty Sales Co., whose community includes close to 300 riverfront houses.
"We are seeing some good numbers," agreed Bob Gibb, broker at John's Island Real Estate. "One sold for $11 million out on Stingaree earlier this year."
The sale price of that house, at 111 Stingaree Point, which was listed for $14 million and sold in May, held the old current riverfront record.
"A couple of years ago, you could get a decent house on the river for $1 or $2 million," says Webb. "You could get a really nice house for $3 million, and $5 million was pretty much the top of the market. Today there are only three riverfront houses on the island listed for less than $5 million."
Brokers say the dramatic increase in riverfront values is due to the pandemic migration that has brought a flood of luxury buyers to Vero Beach; a shortage of ultra-luxury properties on the ocean; and scarce inventory on the open river, bays and inlets, and navigable canals.
Looking at limited waterfront choices in a highly competitive market, island buyers are increasingly willing to pay whatever it takes to get a home that meets their needs.
"There are only nine riverfront homes for sale in all of Vero Beach," says Webb, citing MLS statistics. "Three years ago, there were 90."
The house at 1255 Little Harbour that went under contract Sunday and the house at 500 Bay Drive listed Friday for $27 million by Charlotte Terry of AMAC Alex MacWilliam Real Estate, are similar in many regards.
Little Harbour sits on 1.3 acres, according to Brown, while the Bay Drive house is on 1.4 acres. Both houses have five bedrooms and plenty of bathrooms – nine at the Little Harbour house, seven at Bay Drive – and both are beautifully situated at the tips of small peninsulas, with water on three sides and exceptional vistas.
But there are significant differences, too.
The Bay Drive house is larger, with 9,300 square feet of air-conditioned living space compared to 6,800 square feet at Little Harbour; Bay Drive is right in town, between the bridges, while Little Harbour is two miles south of town; and 500 Bay Drive is on a more pronounced point with 556 linear feet of shoreline compared to 330 feet at Little Harbour.
"Our shoreline is bulk-headed and there are multiple docks, including one with deep water where an 85-foot boat can be moored," said Terry. "You don't have that at Little Harbour. Also, at 500 Bay Drive, you can hop in your golf cart and go to Quail [Valley River Club] or Ocean Drive."
"They are both spectacular properties," said Brown, who went all out with her sales effort for the Little Harbour house, holding two catered, invitation-only open house parties with live music and an open bar on Thursday, one for brokers during the day and one for other interested parties in the evening.
Joe Liguori, one of the owners of Premier Estate properties, came up from Boca Raton to greet guests and help show the house.
"It was a perfect evening for an open house," Brown said. "Many people said there was a magical feeling as the sun went down with the coral and pink colors. That view is so extraordinary. Looking out across the river you don't see another house.
"We had evening showings every night last week and every evening the dolphins swam by as the sun was setting. I had several people ask me how I staged that!"
Dr. Donald Ames, a pioneering Vero surgeon, and his wife Mary bought the waterfront lot for $480,000 in 1988, and the house they built has been in the Ames family since then.
When Dr. Ames died in 2020, his four children inherited the property and Brown credits the siblings with restoring the house and grounds to perfect condition prior to listing it, doing hundreds of thousands of dollars in landscaping upgrades, painting inside and out, redoing floors and sprucing up whatever else needed it.
"The family had the vision of what to do to restore the house," Brown says. "Doug Ames, who spent six months overseeing all the work, deserves great credit."
Brown had the house staged by Meridith Baer, a Beverly Hills-based designer who was the subject of the 2013 HGTV docuseries "Staged to Perfection," and who has been "featured on ABC, CBS, NBC, Bravo, and The Discovery Channel ... and written up in Architectural Digest," according to Baer's website.
It all paid off.
"We had calls from California, Colorado and New York – three from New York – and people viewing the house for out-of-town buyers who couldn't get down here right away," said Brown.
"I have been in the business since 1978 and this was the first time I had people bring their best and final offers at a set time. We did it to be fair and give as many people as possible a chance to make an offer on this beautiful home."
Terry said the house at 500 Bay Drive was built in the 1960s by Art Semon, developer of the Riomar Bay subdivision and Riomar Bay Yacht Club, who kept the best lot for himself. Semon's widow, Jane, later sold the yacht club property to the developers of Quail Valley River Club.
The current owners, Neill and Linda Currie, purchased the house in 2014 for $6.5 million, according to county records. Terry says the couple did extensive renovations and upgrades and are selling now because they have grandchildren that live elsewhere who they want to spend more time with.
Neill Currie, executive chairman of Ascot Group Limited, a specialized insurance company associated with Lloyds of London, chaired the Indian River Community Foundation's board of directors in 2018.
Terry says she based the $27 million asking price on the home's quality, size, prime location, and the record oceanfront sale price on the island, also $27 million, which was paid in November in a deal brokered by O'Dare and Boga.
"That house at 1920 A1A is larger and has more land, but it is way down the island. This house is in Riomar, close to everything," she said. "You can't beat the location and the house is totally move-in ready. The details are incredible. There is nothing else like it."
Terry said she is off to a strong start, with two showings over the weekend, and she, like other island brokers, expects riverfront prices to keep rising.
Traditionally, Vero riverfront buyers have looked exclusively on the river, seeking a specific lifestyle, and oceanfront buyers have been set on an Atlantic view.  But with inventory so tight some high-end buyers are now looking at both types of properties.
"There is nothing in the high, ultra-luxury category for sale on the ocean right now," said O'Dare, who's already shown 500 Bay Road to clients. "I have some buyers who are now looking on both the ocean and the river."
Webb said he sent info about 1255 Little Harbour to three $30 million oceanfront buyers he is working with and that one was interested enough in the riverfront property to take a look.
"It remains to be seen if oceanfront buyers will compromise and buy on the river to find something nice they like," said Bob Gibb. "I certainly have people who are looking in both places."