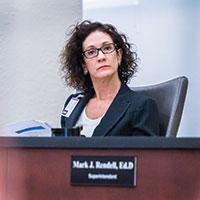 School Board will save $132,000 annually by switching law firms
STORY BY GEORGE ANDREASSI (Week of December 9, 2021)
Photo of longtime schools attorney Suzanne D'Agresta.

The School Board anticipates saving $132,000 per year by retaining the Sniffen & Spellman P.A. law firm, making lemonade out of the planned retirement of longtime schools attorney Suzanne D'Agresta.
The board voted unanimously last Monday (Nov. 29) to approve a five-year contract with Sniffen & Spellman with a monthly retainer of $11,000 per month for 90 hours.
That amounts to $132,000 annually, but the actual amount could increase to a maximum of $250,000 per year, or more, depending on the board's needs for legal services.
The school district had been paying the Orlando-based firm of Garganese, Weiss, D'Agresta & Salzman P.A. a retainer of $22,000 per month for 120 hours, Schools Superintendent David Moore said.
That amounts to $264,000 annually, but the board wound up paying an average of more than $600,000 per year in legal fees and costs to D'Agresta's firm and several other attorneys during a seven-year period.
D'Agresta had represented the School Board since April 1, 2009, and has long been considered a trusted advisor. But she ran into some difficulty in January 2020 after submitting a questionable report to a federal judge in the district's 54-year-old desegregation case.
In February 2020, a review of legal expenditures revealed the board paid D'Agresta's firm $2.4 million in fees and another $2 million for legal services to outside law firms.
But past controversies were forgotten on Nov. 16, when the School Board voted unanimously to declare November 2021 "Suzanne D'Agresta recognition month" in honor of her service and marking her retirement.
"Suzanne D'Agresta has served with humility, grace, exceptional knowledge and dedication," said School Board Chairwoman Teri Barenborg.
Schools Superintendent David Moore called D'Agresta "a true asset to our community."
"This is a woman who picks up the phone no matter when you call, will answer any question, regardless of how thoughtful, or ignorant it may be," Moore said. "She will answer it in the most professional way."
The School Board scrapped three other law firm searches in the past two years before a fourth search this fall yielded a deal to retain Molly Shaddock of Sniffen & Spellman's West Palm Beach office.
Shaddock lives in St. Lucie County and the School Board will not incur travel or lodging expenses for her short commute to Vero.
The change in the School Board's business meetings and workshops from Tuesdays to Mondays was made to accommodate Shaddock's schedule, as she also serves as counsel for the St. Lucie County School Board, which meets on Tuesdays.
Moore expressed mixed feelings about D'Agresta's retirement, but optimism about the transition.
"There was a great deal of concern because of how fast moving this entire process was," Schools Superintendent David Moore said. "And ultimately leading us to a sad, but joyful place where we are saying goodbye to Ms. D'Agresta and hello to a new law firm and doing so at a significant time in the history of our school district."
The School Board is working with the NAACP's Indian River County chapter to resolve a federal desegregation order handed down in 1967. The board has also faced legal disputes with the County Commission and parental activists in the past two years.
If the legal costs start piling up, it would take a School Board vote on a contract amendment to pay Sniffen & Spellman more than $250,000 in any year, according to the contract.
"The $250,000 covers us for any litigation that may come above and beyond the normal services covered through the retainer," said school district Chief Financial Officer Ron Fagan.
"It doesn't mean we'll spend it, it just means it's there in case we do need it," Fagan told the board.
During months the School Board needs more than 90 hours of legal services, the law firm will submit invoices for $190 per hour for attorneys, $70 per hour for paralegals and $50 per hour for law clerks.
"The 90 hours was determined by working with the firm and also looking at our structure today, going to one board meeting per month," Fagan said. "That equates to $122 an hour for that first $11,000. That seemed fair and reasonable."
In addition to cutting back to one School Board business meeting per month from two, the school district is restructuring the district's contracting process to reduce the need for legal services, Fagan said.
The contract contains three one-year renewal options and can be canceled by either side with 90-days' notice.