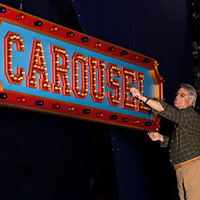 Turning the lights back up at Riverside Theatre
STORY BY MARY SCHENKEL (Week of December 23, 2021)
Photo: Producing Artistic Director and CEO of Riverside Theatre Allen Cornell.

After a season of darkness, it will be "Lights up at Riverside" on Jan. 4 when the cast of the Rodgers and Hammerstein musical "Carousel" takes to the Stark Main Stage in a production that runs through Jan. 23.
Unless the surge in cases from the Omicron variant forces another delay, this will be the first major production at Riverside Theatre since it, along with theaters worldwide, went dark in March 2020.
"We are finally, after all this long time, able to put people back in the theater and produce a show on stage. It's been a long time coming," said Allen Cornell, producing artistic director and CEO of Riverside.
Cornell, who is also directing the show, said he appreciates the message of "Carousel" – as underscored by one of its signature songs, "Never Walk Alone" – that despite the isolation of the last couple of years, we are all still connected.
"Every day the situation changes, but we're doing everything that we can to make sure that we can do this, that people will be safe, and that we can get back to our lives."
The theater is following the strict COVID protocols required by Actors Equity for the cast and crew. As for the audience, under current CDC guidelines, the decision of whether to wear masks will be up to audience members, and Riverside will make masks available for anyone who needs one.
Operating within the new protocols has added additional layers of challenges, such as administering PCP tests twice weekly, and limiting intermingling among the backstage crew, actors and those staff who interact with the public.
In addition to designated understudies, Cornell says, they have two "swing" actors who are learning various roles by observing from a distance in case they are needed as substitutes.
Despite the added protocols and uncertainties, the overwhelming feeling among everyone involved is excitement.
"Everybody is so thrilled to be back doing what we do. Even starting back when we were auditioning in New York, some of the actors that came into the room, it was their first live audition in a year and a half," says Cornell. "They would stop and just go, 'I can't believe that we're actually doing this.' And even here, every day in rehearsal, we just look at each other like, we're actually working on a show."
"This was my first in-person audition in almost two years. I think the show will knock people's socks off and mean an enormous amount to everyone involved," said Carousel actor Andrew Sellon. "This is the first time (back) on stage for most of us and it's pretty thrilling."
Because of community support and federal COVID-19 grants, Riverside is on solid ground financially – an amazing feat considering that their remarkable big-budget Broadway productions can cost some $1.5 million per show. Riverside was also able to retain all of its staff.
"We were very fortunate that many of our major donors stepped forward at the at the outset of this to help fund the theater. The staff has been working since the beginning of the pandemic, so we were able to keep our operations intact," Cornell says.
"This community is so supportive, not only of Riverside but of all the arts. They really helped us continue in the time when we didn't have any professional shows. And through that support, we were able to plan and build and bring together the season that we're about to open," said Oscar Sales, Riverside's marketing director.
"We're just excited to open up and do what we normally do. To have 29 people on stage is a feat in and of itself. It's going to be amazing.  The show itself is iconic, with all the musical classics that are in it, and I think people are just anxious to get back and see live performances. I'm excited," said Sales.
The 2021-2022 season kicks off with shows previously planned for the previous season in a slightly modified schedule.
"Carousel" will be followed by "Comedy of Tenors," Feb. 1 to Feb. 20 and "On Your Feet: The Story of Emilio & Gloria Estefan," which runs here March 8 to March 27 before it moves to the Walnut Street Theatre in Philadelphia. "Billy Elliot" runs April 12 to May 1 and the season ends with "Almost Heaven: John Denver's America," May 10 to May 29.
This season's two Waxlax Stage productions are "I Love You, You're Perfect, Now Change," Jan. 18 to Feb. 6, and "Bakersfield Mist," March 22 to April 10.
Those season subscribers who renewed their seats for the 2020-2021 will have them carried into 2021-2022 season.
While Festival of Trees and the Friends Fall Luncheon did not take place in November, their March 14 Gala, featuring dinner and a performance by Brian Stokes Mitchell, is still on track. Additionally, Riverside continues to entertain residents and visitors with its Comedy Zone experiences and Live at the Loop concerts each weekend.
Shelley Koppel contributed to this story.