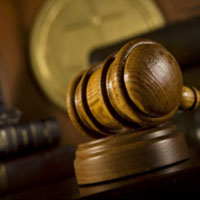 Charges dropped against man arrested by deputy who later shot Teel
STORY BY RAY MCNULTY (Week of February 4, 2021)

A prosecutor dropped all eight criminal charges – three felonies and five misdemeanors – against a suspect injured while being arrested by the sheriff's deputy who, seven weeks later, fatally shot a Vero Beach doctor's wife in her home.
Assistant State Attorney Steve Wilson said Monday he had concerns about the circumstances that led to the arrest of the suspect, Luciano Paternoster, who was taken to the hospital with a concussion after Deputy Jonathan Lozada forced him to the ground.
Wilson said he reviewed the arrest reports and videos of the June 8, 2017 incident, and wasn't convinced Lozada had the probable cause necessary to suspect Paternoster of DUI and stop him at the Wawa convenience store and gas station at the intersection of U.S. 1 and 12th Street in Vero Beach.
"To stop someone for DUI, the law requires that a police officer have sufficient cause to believe the driver was in an accident or driving erratically," Wilson said. "In this case, the evidence of DUI was very limited – the driving took place in a parking lot – which raised doubts about our ability to prove guilt."
Those doubts prompted Wilson to dump the DUI charge, which forced him to drop the other charges, because they stemmed from a questionable traffic stop. Or as Wilson put it: "If a court finds there was no basis to stop the vehicle, everything after that would be inadmissible."
Lozada was later suspended by the Sheriff's Office for using "excessive force" that resulted in serious injury to Paternoster, who has hired an attorney and notified the agency of his intent to sue.
Sadly, however, the 40-hour suspension wasn't imposed until the Sheriff's Office completed an in-house investigation – three months after Lozada's highly publicized shooting of Susan Teel.
Todd Norbraten, an attorney with the Stuart-based Rubin & Rubin law firm that represents Paternoster, said the fact that the charges were dropped doesn't impact the civil case, which, at this point, doesn't include a false-arrest allegation.
Norbraten said the thrust of Paternoster's lawsuit was the deputy's use of excessive force, for which he was eventually suspended.
Paternoster, who was 22 at the time, was charged with four drug-related offenses, DUI, resisting arrest without violence, and driving an unregistered vehicle with an unassigned tag.
Lozada's arrest report stated that Paternoster was injured when the right side of his head "hit the concrete ground" and that the suspect "immediately lost consciousness," suffering a cut on his eyebrow and bruise on his cheek.
Paternoster has a criminal history involving drug use and bad driving dating back to 2012. His lawsuit will be the second against Lozada, who also is being sued by the family of Susan Teel, as he continues to work as a Sheriff's deputy.
Dr. Dudley Teel's attorneys, Guy Rubin and Norbraten, have filed a $10 million wrongful death lawsuit against the Sheriff's Office and Lozada. They say Lozada should have been placed on administrative leave after injuring Paternoster, or at least removed from road-patrol duty, until the investigation was concluded.
Norbraten said Lozada would not have been on duty the night the Teel family called for help if then-Sheriff Deryl Loar had "taken the appropriate steps" after the deputy used excessive force to subdue Paternoster.
"But for their inaction, he's not there that night," Norbraten said. He  bolstered his argument by citing the deputy's history of being disciplined for violating agency policy six times prior to his  suspension for injuring Paternoster.
The Teel shooting occurred shortly after 8 p.m. on July 26, 2017 at the Teel family's Carriage Lake home, where Susan Teel had attempted to commit suicide by slashing her wrists.
Lozada responded to the 911 call and, after speaking briefly with Dr. Teel, pulled his gun as he climbed the stairs and confronted the petite, 62-year-old woman in a second-floor bedroom.
The Sheriff's Office report stated that she was holding a knife, and Lozada shot her three times in the chest.
In a next-day news conference, Loar defended Lozada's actions, saying: "The deputy did exactly what he was trained to do" in a potentially deadly confrontation.
In January 2018, a grand jury declined to indict Lozada on criminal charges. Eight months later, however, Dr. Teel filed his lawsuit, which produced testimony that called into question Lozada's actions in the Teel shooting.