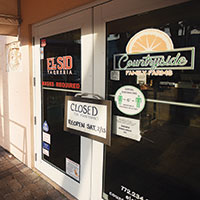 El Sid Taqueria latest island eatery to close briefly as a result of COVID-19
STORY BY STEPHANIE LABAFF (Week of February 18, 2021)

Nearly a year into the pandemic, the coronavirus continues to occasionally impact island eateries with popular Mexican spot El Sid Taqueria the latest to shut down last Wednesday after an employee tested positive for COVID-19.
The Ocean Drive taco joint reopened Saturday after a deep cleaning was completed and other employees tested negative for the disease.
The first island restaurant was closed by the virus way back in June, when Bobby's Restaurant & Lounge shut down for two weeks after a bartender tested positive for COVID-19.
Since then, a number of other island eateries have closed for various periods of time due to staff infections, including the Ocean Grill, Waldo's Restaurant & Bar and Ryder's Gourmet Market.
All the restaurants were prompt to notify the public, determined to ensure customer and staff safety, and all of them paid a price for their diligence in the form of lost revenue, testing costs for other employees and expenses related to intensive cleaning.  
"We take everyone's temperature when they come in and record it every day," El Sid owner-manager Cheryl Roseland told Vero Beach 32963. "[The worker's] temperature was 96.3 degrees when he came to work, but toward the end of his shift, he said he wasn't feeling so hot, and he left."
Later that night, Roseland was informed the employee had tested positive for COVID-19, prompting the decision to close the taqueria for sanitization and deep cleaning, something Roseland said she has been doing all along.
"It's obviously an uncontrollable virus. You do the best you can and try to protect the public and your employees and also preserve your business," Roseland said.
She added that in addition to enhanced daily cleaning protocols and mask-wearing enforcement for both staff and customers, she has been having the restaurant disinfected weekly by Universal Precautions, a locally owned company that uses electrostatic sanitization to kill viruses, bacteria and mold.
All El Sid staff members who came in contact with the employee who tested positive were tested before the restaurant reopened. All were negative.
And diners are not shying away from the taqueria because of the brief closure. On the contrary, there was a line out the door on Saturday after the restaurant reopened – indicating perhaps that island diners appreciate transparency, want to support local businesses and love the food that Roseland and her staff prepare and serve.