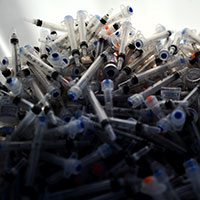 Hundreds get coronavirus vaccine here at pop-up clinics
STORY BY MICHELLE GENZ (Week of February 4, 2021)

Amidst the confusion and frustration of the vaccine rollout in Indian River County, there was a shot of good news last week as the vaccine was injected into hundreds of virus-vulnerable people who had been unable to secure vaccine appointments through the internet or by phone.
Most of the recipients were contacted out of the blue by local nonprofit agencies like the Alzheimer-Parkinson Foundation and the Senior Resource Association and told that doses were available.
Others were contacted by Treasure Coast Community Health or called or visited by community leaders and volunteers who knew they needed help. All ended up in getting vaccinated at one of three pop-up clinics, including one in a pine-shaded field off Oslo Road.
The operation was set in motion when Treasure Coast Community Health – a government supported, independently run, low-cost community health center – got a large allotment of vaccine from the Health Department on Jan. 4.
"Some community health centers were given allocation, and I guess we won the prize," said CEO Vicki Soule.
Clinic administrators set about calling, texting and emailing eligible people – patients over 65 – but were unable to find enough patients for all the doses they had in hand.
"Many of our seniors across the county are still hesitant and they're saying no thank you to the vaccine," Soule said. "So, our discussion with the county health department changed to how can we help other vulnerable populations in our county."
Soule reached out to Freddie Woolfork, a community leader in Gifford, who offered to personally call people eligible for the vaccine.
In addition, she got in touch with the county's Senior Resource Association and Alzheimer and Parkinson Association, as well as Saint Francis Manor, an affordable housing facility for seniors that uses TCCH for medical services.
Soule then set up events at TCCH locations in Fellsmere, Gifford and the Intergenerational Recreation Center on Oslo Road. In all, more than 500 highly vulnerable people were vaccinated through the recruitment effort. That included one man in Fellsmere who pulled up to the drive-through in an 18-wheeler; the vaccinator had to climb up into the cab to give the driver his shot, Soule said.
The inspired outreach came none too soon for Joan Mihalakos, whose husband Socrates, a retired appellate court judge, is battling dementia, a possible risk factor for severe COVID-19 disease.
Joan Mihalokos was in tears by the time she called the county's Alzheimer and Parkinson Association. "I was just so frustrated. I'm not really computer savvy so I've been trying for weeks and weeks and weeks by phone or by logging on to various sites to get an appointment. I was beside myself. I was just crying, 'Oh, God, help me, help me!'"
That's when it occurred to her to call the Alzheimer and Parkinson Association.
"I thought maybe there's somebody down there that can help me ... So, I called and said, 'I'm just having a horrible day here and I don't know what to do. Is there anyone there that can help me?' And she said, 'I can help you. Your husband is one of the people we serve, and we got a certain number of doses and we can sign you up.' I said, 'Praise the Lord.' I was just ecstatic."
Mihalokos shared her discovery with an online dementia caregivers meeting she joins once a week. And so, the outreach continued.
"I believe we are so blessed in Indian River County," said Mihalokos, who after 20 years as a snowbird with her husband, decided a year ago to live here permanently. "With all the services that we have here, I'm extremely pleased."
"We were so lucky that we were given this opportunity [to help our clients]," said Peggy Cunningham, executive director of the Alzheimer Parkinson Association. "
"That's what we needed for our folks that weren't in the long-term care facilities that were getting the vaccine. I was talking with Vicki on a Monday, and on Tuesday they gave us the number of available spots. In a very short time, 80 people were vaccinated. Everybody was so grateful. To me it was a really good collaboration. This is how it's supposed to work."
"It's incredible to take the whole thing in," said Wes Whitaker, a TCCH volunteer who handed out information to drivers as they pulled up under the pines at the Oslo Road clinic last week.
A retired superintendent of schools now living in Indian River Shores, Whitaker went through six hours of training with TCCH and has helped with half-a-dozen vaccination events.
He decided to help with vaccination efforts after talking to Soule; they are members of the same Rotary Club. It was the day after the first mass vaccination at the fairgrounds, he recalled.
"She was saying how challenging it was, being a federal program, which as you can imagine has a lot of strings attached. She was thinking of putting together a group of volunteers to help with non-medical part. And I said, 'Sign me up then.'"