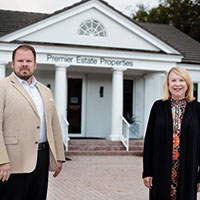 Island brokers see 2021 shaping up as another phenomenal year
STORY BY STEVEN M. THOMAS (Week of February 11, 2021)
Photo: Richard Boga, associate, and Cindy O'Dare, associate/broker of the O'Dare Boga Group at Premier Estate Properties in Vero Beach.

After a record-breaking year in 2020, the island real estate market has only gotten hotter so far in 2021. Top brokers and agents universally believe this year will be another great one – maybe even better than last – with homes drawing multiple offers and sometimes selling before they even hit the MLS.
"This is going to be the best real estate season of my lifetime," says Premier Estate Properties broker associate Cindy O'Dare, who has been in the business for decades. 
"The correspondence and calls I am getting from serious, determined buyers is unlike anything I have ever seen. People who plan to come in March or April or over the summer want to get the ball rolling now, beginning to research the market and putting me on notice of what they want. I am getting those calls and emails multiple times each day, some from people who say they have friends who will be contacting me as well. I have never seen anything like it."
"I agree with Cindy," says Debbie Bell, a broker associate with Berkshire Hathaway HomeServices Florida Realty, who has been selling island homes for more than 20 years. "This is a whole different kind of time. I have close to 6,000 internet leads and I'm about to hire two new assistants to try and keep up with the flood of business.
"I am seeing buyers from everywhere, including more from California and Chicago than in the past and younger people, too. More and more people with money are discovering Vero Beach. Many of them do not want to negotiate on selling prices. They are happy to pay the asking price rather than miss out on getting the home they want."
"As the word continues to spread about what a great place the barrier island of Vero Beach is to live, we expect this season to bring more buyers with strong purchasing power who will snap up the best properties that suit their needs," says Premier Estate Properties estate agent Luke Webb. "We are seeing properties sell the instant they go on the market. We listed an Estuary home at 6 p.m. on a Friday night and by Saturday afternoon we had multiple showings and multiple offers with the winning buyer paying more than the asking price."
"It has been crazy busy," says Marsha Sherry, broker at The Moorings Realty Sales Co. "Our agents are working nearly 24/7 and we are seeing multiple offers which has led to many properties selling for over asking price."
"I think we will have a very, very good year in terms of sales, in part because prices are higher, but it will be difficult because inventory is so limited," says Matilde Sorensen, co-owner of Dale Sorensen Real Estate.
The red-hot island market is being driven by a dizzying array of factors no one could foresee when the pandemic began a year ago, including the continued exodus of wealthy buyers from big cities and the dawning realization that work can be done from anywhere – so why not live in a lovely little coastal town with lots of amenities?
"We think the increase in demand for homes on the island will continue, post-COVID," says Sally Daley, owner/broker of Daley & Company Real Estate. "Fundamentals driving the uptick include the choice to live where you want, independent of workplace location, the aging Baby Boomer demographic, urban out-flight, the continued strength of the New South and the punitive tax policies in high-tax states like New Jersey [New York and California]."
"Even high-level CEOs are realizing they can work from home with a robust home office," says O'Dare. "Many who were planning to retire to Florida in a few years are going ahead and making the move now, while continuing to run their companies. Those are the kind of the buyers who will keep our market strong."
"I don't see this as a 'false' market," says Sherry. "It is being driven by needs and wants and will remain strong for a while. Vero offers low density, a community with an outstanding lifestyle with arts and cultural events, fine restaurants, good schools and shopping – not to mention beautiful beaches and the Indian River Lagoon."
"We are kind of like the free state as far as COVID goes," says Bell. "Things are open, and we are still living our lives. It is a good place to be."
The one big challenge to achieving another record-breaking year in 2021 is the problem mentioned by Sorensen – a severe shortage of inventory on the island, and around the country.
"As of February first, there were 136 active island houses, not counting those under contract," says Bell. "In 2020 there were 341 active listings at this time; in 2019 there were 396. It is bizarre. We have no inventory."
"I am about ready to start going door to door looking for listings," says O'Dare of the challenge she faces trying to find suitable properties for her luxury buyers.
"I have fewer listings than any time in my career," says Sorensen, who adds she too is on the verge of door-knocking.
But island brokers and agents see a light at the end of the tunnel as vaccinations ramp up and COVID numbers begin to fall.
"We anticipate that, as COVID infections are more under control and our industry continues to do business following CDC guidelines and in a responsible manner, more sellers may feel comfortable putting their homes on the market," says Carol Prezioso, manager of the Berkshire Hathaway office on Ocean Drive. "That should help inventory balance out ... and we look forward to a very strong year!"
And Bell points out there are fundamentals driving sellers as well as buyers, including "elderly people who need to sell their big houses and those who need to relocate to get more space for home offices or home schooling."
At the same time, national real estate experts are "forecasting increased demand from buyers who delayed purchasing homes because of the pandemic and from condo owners who are seeking to escape multifamily buildings for single-family houses to mitigate exposure to the virus," according to a recent Washington Post article.
One of those experts, Redfin chief economist Daryl Fairweather, says that "later in the year, the worst of the pandemic will hopefully be behind us ... and a new batch of homebuyers and sellers will enter the housing market, making for the strongest year of home sales since 2006."
Prognosticators at online home sale marketing company Zillow are even more exuberant, predicting that "2021 will be a year unlike any other," with real estate activity surging to create the highest annual home sales growth in 40 years as "financial certainty brings more sellers into the market to meet the heavy demand [for homes] and technology allows for faster connections with interested buyers."