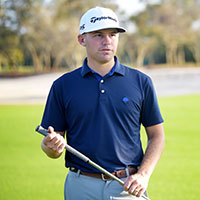 John's Island golfers bankroll teaching pro's PGA dream
STORY BY RAY MCNULTY (Week of February 11, 2021)
Photo: John's Island assistant golf pro Tyler Collett.

John's Island assistant golf pro Tyler Collett doesn't need to worry about his expenses as he prepares to compete later this month in the Puerto Rico Open, his first PGA Tour event.
They're already covered.
Now-retired Sports Illustrated editor Mark Mulvoy made sure Collett wouldn't need to spend his own money, after the 25-year-old West Virginia native played his way into the tournament by winning the South Florida PGA Professional Championship at Boca Raton's Broken Sound Club in September.
Mulvoy, an avid golfer, sent an email to a group of 90 of his fellow JI members, asking each of them to contribute at least $100 to help defray the costs of Collett's dream-come-true trip.
They call themselves the "Wednesday Warriors" – as many as 40 of them play every Wednesday – and they quickly ponied up the money.
"He's a great kid, and we want him to experience the real thing – stay where the other players are staying, bring a caddie he knows, feel like an established PGA Tour pro," Mulvoy said last week.
"Tyler needed about $7,500 to play in the tournament, if you include his travel, hotel, meals, entry fee and caddie," he added. "So, I reached out to the guys and told them we really should sponsor him for this tournament.
"Right off the bat, 40 guys responded."
Eventually another 40 members responded, too, ensuring that Collett would not need to fund the trip himself.
"It takes a big burden off of him," Mulvoy said, "and it's great for the club, too, having one of our pros playing in a PGA Tour event."
"What the members have done to raise that money, it's overwhelming," said Collett, who has been working at JI for four years. "I'd have found a way to make it work, but this really helps."
Collett will go to Puerto Rico with an unusual story to tell when he gets to the press room – he played only one year of golf in high school and wasn't on the golf team at Eastern Kentucky University where he went to college.
"I began playing competitively when I was 12, and I did pretty well as a freshman in high school, but I went to a small, private school that dropped its golf program [the next year]," Collett said. "Instead, West Virginia had a junior golf tour, and I played in those tournaments.
"My parents weren't rich, but my dad did well enough to get me a junior membership at a local private club, where I didn't have to pay greens fees if I walked the course," he added. "It also helped that my half-brother played a lot and was a good golfer.
"But I've done a lot of work on my own."
Collett said he believes he had enough game to play college golf, but he wasn't allowed to be part of the team because he enrolled in the "PGA Golf Management Program," accredited by the Professional Golfers Association of America.
Those who successfully complete the program are awarded a bachelor's degree in business administration and marketing with a PGA Golf Management concentration – the education needed to work in the golf industry as a teaching pro or director of golf.
But Collett said the professor overseeing EKU's program believed the demands of the program were too great to allow students pursuing that major to play on the school's golf team.
"I wasn't aware of that until the start of my sophomore year," he said.
Again, Collett sought competition elsewhere, playing in local, regional and national golf events.
After graduating from college in 2016, Collett took an assistant pro job at the Country Club of York (Pennsylvania), where he spent seven months working for head pro Christopher Kelley, a former John's Island assistant pro.
Collett said he told Kelley he wanted to "go south for the winter," and Kelley put him in touch with John's Island golf director Steve Hudson. Four years later, Collett is a do-it-all assistant pro at one of America's top country clubs.
In fact, Hudson has created a work schedule that exposes Collett to all aspects of the business – giving lessons, running clinics, organizing tournaments and operating the pro shop.
"I have my hand in pretty much everything, which is great," Collett said. "Obviously, my dream is to make it on the PGA Tour, but if that doesn't work out, I want to become a head pro or director of golf."
Collett said he plays in two to three tournaments each month – regional minor-league tours and South Florida PGA Section-sponsored events. He estimated that he competed in more than 40 tournaments last year.
Working 45 to 50 hours per week makes it difficult to prepare for his first PGA Tour event, but Collett said he benefits from having access to JI's practice facilities and courses, which he uses when his work schedule and open tee times allow.
"There's only so much I can do to prepare, being in the position I'm in, but I've been practicing as much as I can – hitting balls, putting, working on my game," he added. "I'm also eating healthier and walking the course when I play, so I can be in shape for Puerto Rico.
"It's my first PGA Tour event, and I'll probably be a little nervous on the first tee of the first round, but I'd like to think I'll handle it."
His friend and fellow JI staffer, Dylan Miranda, will be there to help – Collett is bringing the Sebastian River High graduate who played golf at Thomas University as his caddie.
They're scheduled to leave for Rio Grande, Puerto Rico on Feb. 21 for the tournament, which begins Feb. 25.
"He's a really nice young man – very friendly, very courteous – and we're all rooting for him," Mulvoy said. "He's got a lot of game, but now he goes to the big time and we'll see."