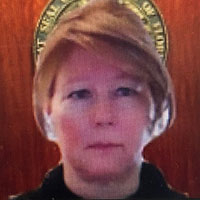 Judge Janet Croom to rule soon on school facemask policy for students
STORY BY GEORGE ANDREASSI (Week of February 4, 2021)
Photo: Judge Janet Croom held a hearing on Jan. 29 via Zoom on a complaint by four Indian River County parents who want the School Board's mandatory face mask policy thrown out.

State Judge Janet Croom must decide whether to order the Indian River County School Board to make facemasks optional for students or go along with an earlier court ruling upholding mandatory facial coverings in public schools.
Croom concluded an hourlong hearing on the matter last week by saying she wanted time to study related cases and mull over her decision because "it is a very important issue."
"I do want to cogitate on this a bit," Croom said. "I want to really think about this and look at this and look at the law that has come out on it.
"I will be issuing a decision in the near future," Croom said during the hearing conducted via Zoom from the Indian River County courthouse in Vero Beach.
Patrick Leduc, the Tampa-based attorney representing four Indian River County parents suing the School Board, hopes to have better luck in the 19th Judicial Circuit on the Treasure Coast than in the 13th Judicial Circuit in Tampa, where a judge dismissed a similar complaint he filed on behalf of several parents.
But Jason Margolin of Akerman LLP, who represented the Indian River County School Board, asked Croom to throw out the lawsuit because there were good reasons for the mandatory facemask policy.
"For the same reason, the court dismissed nearly identical claims in Levonas vs. Hillsborough County School Board, this court should dismiss too," Margolin argued. "For plaintiffs to prevail, for them to overcome our motion, they have to negate every conceivable basis for this policy.
"The School Board has a compelling interest in preventing the spread of the COVID-19 virus," Margolin said. "It's a compelling interest to protect the health of its students and the staff and frankly the community at large.
"One of the authorities we cited was the FDA, which said there is no adequate approved and available alternative to the emergency use of facemasks for source control by the general public," Margolin said. "There is no alternative."
Leduc argued the parent's Constitutional rights to make healthcare decisions for their children outweighed the School Board's power to require students to wear facemasks.
He portrayed the mandatory face-mask policy as government overreach that could lead to further abuses, if not opposed.
No matter how Croom rules, one of the parents involved in the suit said she would continue to fight against the mandatory facemask policy.
Jennifer Pippin, whose 15-year-old daughter and 12-year-old son attend public schools, told the School Board at its Jan. 26 business meeting, "We're not going to give up. This is not the last time you're going to hear from us. We're not going away because our children are most important and parental rights will never end, especially with the virus."