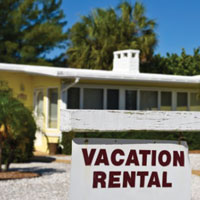 Legislature trying again this year to preempt local regulation of vacation rental properties
STORY BY SUE COCKING (Week of February 18, 2021)

The Indian River County Commission has joined the perennial battle in the state Legislature over the latest effort to block local governments from regulating vacation rentals.
County commissioner Peter O'Bryan last week testified against a proposed House bill intended to prevent cities and counties from inspecting and licensing properties offered as short-term rentals by Airbnb, VRBO and others.  But the House Regulatory Reform Subcommittee voted to advance the bill for further consideration this session.
Various versions of the legislation have popped up for years in Tallahassee; this latest – House Bill 219 proposed by Rep. Jason Fischer, a Jacksonville Republican – would require vacation rental platforms to collect taxes on the properties they offer and remit them to the state; ensure only properly licensed rentals are advertised; and submit reports to the state detailing the rentals.
The measure would cancel local ordinances regulating vacation rentals dating back to June 1, 2011, such as Indian River County's vacation rental property regulation law adopted in 2016.
The county ordinance requires purveyors of vacation rentals to obtain a county license and a certificate from the clerk of court to collect a tourism development tax. The properties are subject to safety inspections and must adhere to limits on parking, occupancy and noise. Violators are subject to fines.
"If the state preempts, all that control goes away," O'Bryan said. "Let's just drive a stake through this thing and kill it for good."
O'Bryan says he doubts the state has enough personnel to regulate the industry in all 67 counties, or even the "several hundred" vacation rentals operating in Indian River County.
"Our ordinance is enforcing the state law that the state isn't enforcing," he said.
Prior to the local ordinance, O'Bryan said, the county had a lot of problems with some of the vacation rentals on the beach – especially those used as wedding venues.
"They'd bring in caterers, disc jockeys and people would be going down to the beach urinating and having sex on the beach," he said.  "Now that we have this [ordinance] in place, most of the complaints we get are noise complaints."
He added that issuing warnings usually curbs the noise problem and the county has levied few fines.
As to the chances of preemptive legislation being adopted this year, O'Bryan said he hears that there's "no hard push" among House or Senate leadership to get it done. Gov. Ron DeSantis killed a similar measure during last year's legislative session.